ARTICLES &
INTERVIEWS
These Symphony-commissioned feature articles offer insights into the music you'll hear in the concert hall.
Jan 1, 2023
Meet Sterling Elliott and Johan Dalene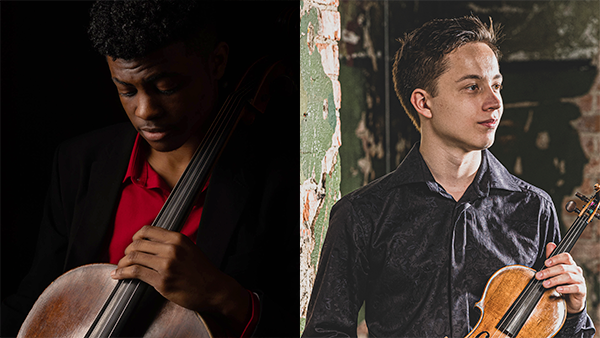 This month features recital debuts from American cellist Sterling Elliott (
Jan 18
, with pianist Elliott Wuu) and Swedish-Norwegian violinist Johan Dalene (
Jan 31
, with pianist Giorgi Gigashvili) as part of the Shenson Spotlight Series.
[Sterling Elliott]
How did you choose the repertoire you're playing?
Designing this program was such a joy! I searched for pieces that would have natural bonding characteristics to the rest of the program, all while choosing music from my own bucket list of cello repertoire. The overarching structure of the program is the tonal polarity revolving around D major. My soul really seems to ring consonantly in this key and especially with these works that are saturated with joy and vibrancy!
What's your process for getting a piece concert-ready?
By the time I reach the final stage of preparation, my goal is to feel so personally connected to the music that I could practically call the piece my own composition. While there are many stages of preparation, I know I'm really nearing my goal once I begin to stray from a performance that would prioritize a technical showcase. I view playing a piece comfortably and well as the elimination of obstacles that would have restricted one from the purity of playing from the heart. I truly feel ready once I'm able to share a part of my inner being to an audience through the medium of my instrument and the composer's music.
What's your routine like on concert days?
I have gone through a variety of routines on concert day, though currently I have one that is consistently relaxing. My routine involves a hearty lunch followed by a shamelessly lengthy nap. The slightly groggy state I find myself in after waking up almost cancels out the flood of nerves and excitement before a concert. I also enjoy pacing through the pieces quite slowly in my practice and drinking a copious amount of water throughout the day!
[Johan Dalene]
Tell us a little about what you're playing in your Spotlight Series recital.
I aimed for putting together a varied program, and since it is my first concert tour in the US, I very much wanted to present something from Scandinavia. [Dalene's program includes works by Edvard Grieg, Arvo Pärt, and Maurice Ravel.]
How do you know when a piece is ready for an audience?
Before playing something in front of an audience for the first time, I always prefer learning the piece (especially if it's a concerto) quite a long time in advance. The main reason for that is so I can learn the piece without stress and also be able to put it away for some time before picking it up again for the performance. When picking it up again it has hopefully matured with you. Also, it feels way more comfortable relearning something you've worked on rather than starting from scratch.
How do you get ready for a performance?
I wouldn't say I have a specific routine on concert days. I definitely like to rehearse and practice…but not too much! It's important to rest and save energy, so that one can give it all in the concert. I try to eat quite a lot for lunch (if the concert is in the evening) and sometimes I also take a nap in the afternoon. Anything to feel as good as possible for the performance!