Security and Privacy
Is the SF Symphony website secure?
Yes, the Symphony uses SSL (Secure Sockets Layer) protocol to encrypt the information entered on your order form prior to transmission over the internet. SSL is the industry standard for secure commerce transactions. You can place your online order securely provided you are using an SSL-compliant browser, such as Internet Explorer, Firefox, Safari, or Chrome.
How do you use my personal information?
Your privacy is important to the San Francisco Symphony. Read our privacy policy to learn more about our privacy practices.
Patrons with Disabilities
What are your services for patrons with disabilities?
Wheelchair accessible seating is available at Davies Symphony Hall and may be ordered online, in person, or by phone. For assistance, please contact Patron Services at 415.864.6000.
Assistive Listening Devices: Sennheiser listening devices for the hearing-impaired are available at the Davies Symphony Hall coat check room, Box Office entrance. Headsets are free of charge


Purchasing Tickets
Can I bring my children to the concerts?
San Francisco Symphony concerts are appropriate for adults and older children, as silence is required throughout the performance. Most concerts are not recommended for children younger than age 12. Audiences of all ages are welcome at Concerts for Kids, holiday programs for families, and outdoor events. Music for Families concerts are recommended for children ages 7 and older. All concert attendees must have a ticket. Patrons of any age disturbing other concertgoers will be asked to leave.

Which credit cards can I use to make a ticket purchase?
The Symphony accepts Visa, MasterCard, Discover, and American Express.
How soon will I receive my tickets?
e-Tickets will be emailed to you within 10–15 minutes of placing your order.
What if a concert is sold out?
We recommend you check back again, as tickets often become available just before the concert.
Why is there a time limit for purchasing tickets online?
When you shop for tickets, you are "holding" real inventory. No one else can purchase those tickets unless you release them. To be fair, we've implemented a time limit during the checkout process. If you exceed the time on the page, the tickets you are holding are released for others to purchase.
What if I'm having problems purchasing tickets online?
Let us assist you: 415.864.6000 or [email protected].
Lost Tickets, Donations, Ticket Exchanges
What do I do if I lose my tickets? You will receive replacements for lost tickets, free. Just call 415.864.6000 and we will resend your e-Tickets.
How can I donate my tickets if I can't attend a performance?
Donate your tickets by calling 415.864.6000 up to one hour prior to the performance. The total ticket value is tax-deductible to the extent permitted by law. If you reach us after hours, leave a message regarding your ticket information and we will handle the donation for you.
How can I exchange my tickets if I can't attend a performance?
For your convenience, we offer ticket and parking voucher exchanges for most Davies Symphony Hall concerts, subject to availability. We encourage you to exchange your tickets as early as possible. Exchanges must be received by Patron Services 24 hours in advance of the performance date.
See below for fees and restrictions.
By Phone: 415.864.6000
By Fax: 415.554.0108
By Mail: Patron Services, Davies Symphony Hall, 201 Van Ness Ave., San Francisco, CA 94102
Please include a note with the date, time, location, and the number of tickets you are exchanging and the desired date, time, and location that you want to exchange them for. Please list at least two choices of alternate performance dates and sections.

Include a name, patron number, daytime phone number, and credit card number (Visa, MasterCard, or Discover) with expiration date.

Exchange Fees:
Exchanges are free for subscribers who exchange in person or by mail.
Subscribers—$15 for each phone or fax exchange.

Non-subscribers—$20 for each exchange.
Exchange requests for a higher-priced performance or section will be charged the difference.
Exchange requests for a lower-priced performance or section will be considered a donation or can be applied to additional ticket purchases in the same transaction.

All other exchanges of discounted tickets require upgrading to a full-price ticket and paying the difference in price.


e-Tickets
e-Tickets are digital tickets accessible via your mobile device or computer. e-Tickets replace our previous print-at-home ticket option.
When purchasing tickets (whether online, on the phone, or in person at our Box Office), e-Tickets can be selected as the delivery option. The digital tickets reside in your SFSymphony.org account.
Once logged in to your SFSymphony.org account, you can manage your tickets (including parking) from your phone, tablet, or computer:
Display your e-Ticket digital barcode from your mobile device for entry
Print your tickets (strongly encouraged for parking voucher) for entry
Forward tickets to a friend
Donate your ticket(s)
As you arrive, we kindly ask you to have your e-Ticket barcode displayed on your screen or printed out, ready for our ushers to scan.

I didn't receive my tickets. What should I do?
When you choose e-Ticket as your delivery option, you will not receive an email with your tickets; we no longer attach tickets to an email as a PDF file. Log in to your SFSymphony.org account to access your tickets under Upcoming Events here.
What are the benefits of e-Tickets?
You do not need to wait in line at Will Call. You can choose to either print your e-Ticket from your SFSymphony.org account or have it digitally scanned from your mobile device.
Pre-paid parking is now available via e-Ticket. We strongly encourage you to print your parking e-Ticket for a smoother transaction at the Performing Arts Garage.
You have the option to forward e-Tickets to friends from your account or donate your tickets if you are unable to attend your planned event.
You can convert any existing paper tickets to e-Tickets in your SFSymphony.org account.


What if I need help or have more questions?
Please contact Patron Services at 415.864.6000 or [email protected]. Our staff is available Monday–Friday from 10am–6pm, Saturday from Noon–6pm, and 2 hours before all performances at our Box Office on 251 Grove Street, San Francisco.
Please follow these steps to access your e-Tickets before you arrive: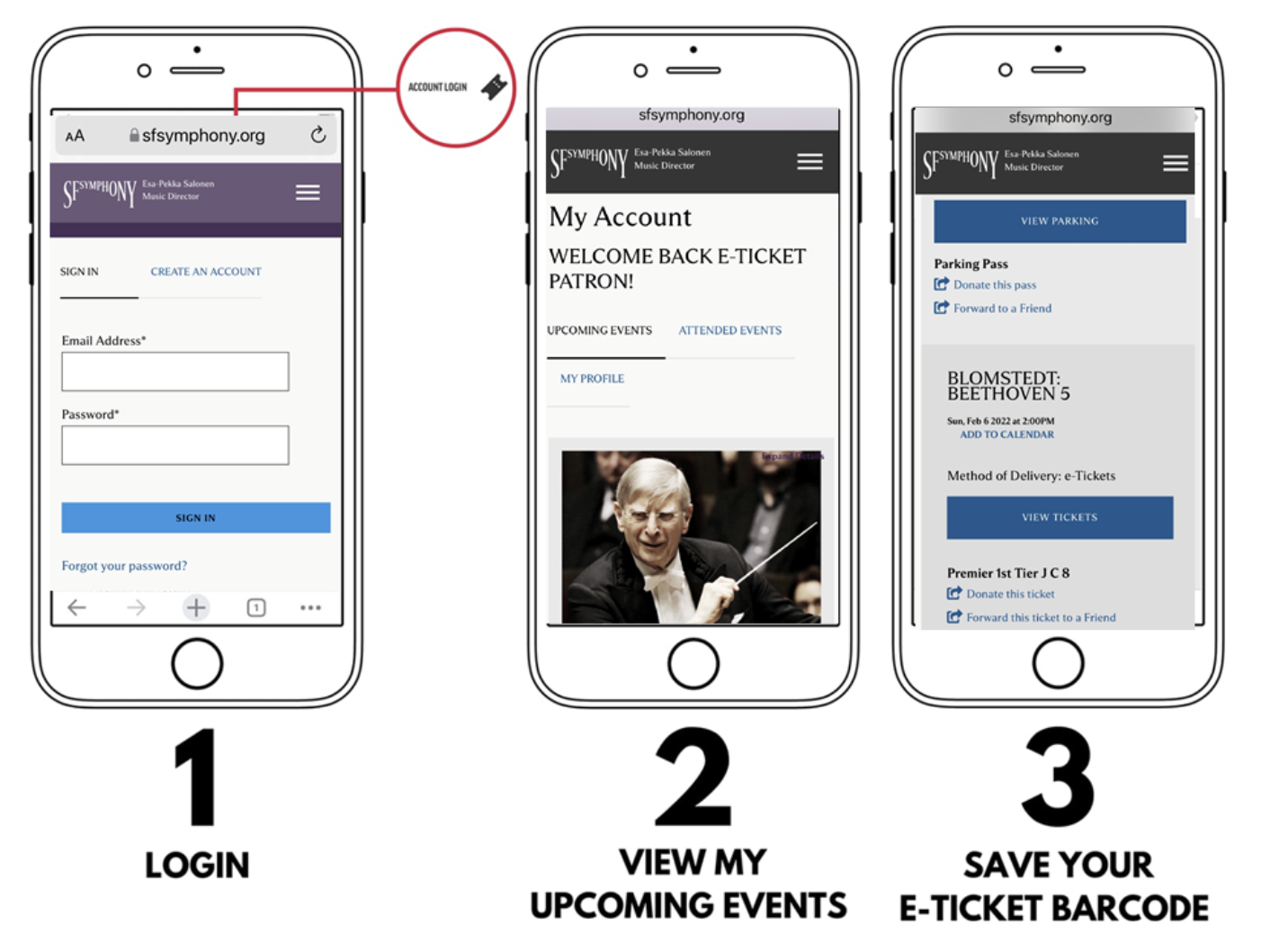 View tickets under Upcoming Events in your SFSymphony.org account from your computer: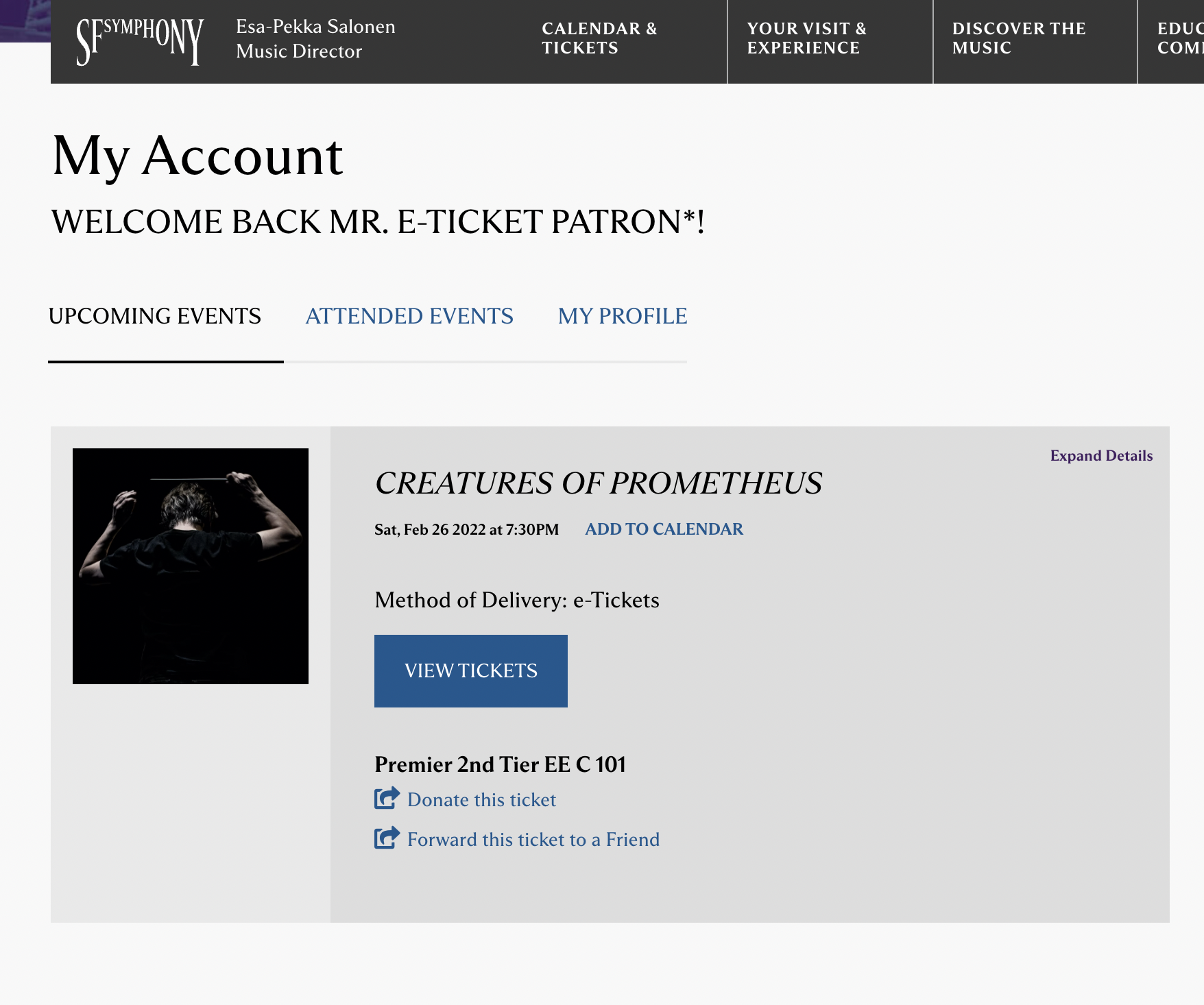 You can convert any existing paper tickets to e-Tickets by selecting CONVERT TO e-TICKET (once you convert to e-Ticket, your previously printed tickets are no longer valid).
Enjoy Your Concert
Please remember to wear your mask.
Please self-assess your health before leaving home.
Learn more at www.sfsymphony.org/safety.
Lost and Found
What if I left one of my belongings in Davies Symphony Hall?
Email [email protected] or visit sfwmpac.org/lost-found for more information.