ARTICLES &
INTERVIEWS
These Symphony-commissioned feature articles offer insights into the music you'll hear in the concert hall.
Sep 2, 2022
Joy in the Journey
Previewing the SF Symphony's Fall Season
BY STEVEN ZIEGLER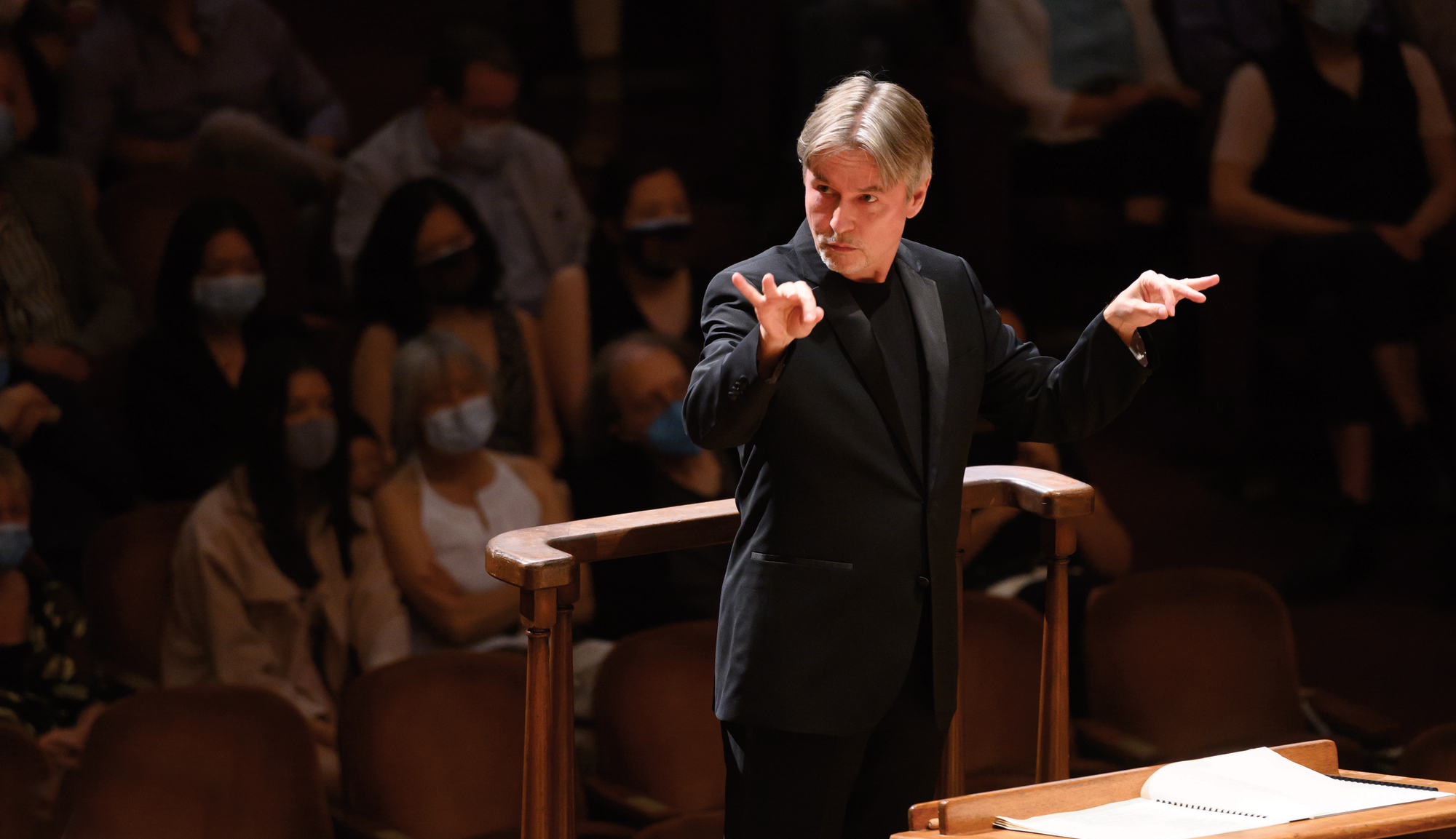 ESA-PEKKA SALONEN HAS FAMOUSLY ESCHEWED
the idea of a classical music "canon," preferring to think of programming in gardening terms: "We have to take care of the old trees, but we also have to make sure that there's new growth everywhere, because without the new growth the trees actually won't survive," he said in a recent interview. "There are new composers, new artists who keep this art form alive and take it places that we cannot even imagine. That's the most important thing—the surprise, the new directions. I want to be part of that process."
Entering their third season together, Esa-Pekka Salonen and the San Francisco Symphony are still in a sweet spot of daily discovery and new explorations. But looking ahead Salonen sees endless possibility. "Everything we have done together thus far has been deeply, deeply inspiring and encouraging for the future."
A peek at Salonen and the Symphony's upcoming season reveals many of the threads that have made this partnership one of the most exciting to emerge on the American classical music scene in recent years: The continuation of a four- year collaboration with director Peter Sellars with a staging of Kaija Saariaho's
Adriana Mater
; a multiweek residency by pianist Igor Levit culminating in a rare performance of Feruccio Busoni's gargantuan Piano Concerto; adventurous programs at home and residencies abroad that tap into the energy and creativity of the Symphony's Collaborative Partners; a flurry of commissions and new works by a dazzling array of composers; and a bevy of notable works heard for the first time in San Francisco under Salonen's direction.
Salonen's mandate will be on full display this fall as he returns to San Francisco for six weeks of wide-ranging programs. The season kicks off with an imaginative gala program built around Felix Mendelssohn's incidental music to
A Midsummer Night's Dream
, featuring actors from San Francisco's African-American Shakespeare Company. This is the second opening gala concert conceived by Salonen to involve contributions from local artists, following on last season's memorable performance with Alonzo King LINES Ballet.
Among the "new growth" propelling the first few weeks of the season is a trio of San Francisco Symphony commissions receiving back-to-back-to-back first performances: Trevor Weston's
Push
(world premiere), Daniel Kidane's
Sun Poem
(US premiere), and Magnus Lindberg's Third Piano Concerto (world premiere). Weston was the inaugural winner of the Emerging Black Composers Project, a joint multiyear program between the San Francisco Symphony and the San Francisco Conservatory designed to spotlight the work of a new generation of Black American composers. Salonen served on the jury for the competition and vividly remembered his first encounter with Weston's work. "I was immediately taken by the beauty and the energy of his music, and also the sparkle of ideas, which is rare. His music seemed to be completely alive." (
Read more about Weston in this feature
.)
Daniel Kidane's
Be Still
, an evocative and lyrical reflection on the COVID-19 pandemic, was one of the first pieces Salonen and the Symphony performed together following their return to live concerts after a seventeen-month hiatus. Salonen looks forward to collaborating again with Kidane for the US premiere of
Sun Poem
, in which the composer explores themes of heritage and paternal lineage. And Magnus Lindberg? Salonen and Lindberg have been thick as thieves since they were fifteen-year-old students at the Sibelius Academy in Finland. Salonen noted that in addition to being a sought- after composer, Lindberg is an especially gifted pianist with a predilection for writing "hair-raisingly virtuosic" piano works. Lindberg's piece will be taken by Yuja Wang, who Salonen feels is a perfect match for the concerto's substantial demands.
The season's opening weeks are also awash with orchestral series debuts by violinist Randall Goosby, soprano Golda Schutz, pianist Bertrand Chamayou, and baritone Christopher Purves, among others. Goosby, who made a notable debut on the Symphony's Spotlight recital series last year, returns for the first San Francisco Symphony performance of Florence Price's Second Violin Concerto, led by Salonen. (Goosby also records the concerto in the coming months with the Philadelphia Orchestra.) Schultz and Salonen have worked together with increasing frequency in recent years, including a memorable turn at last summer's Aix-en-Provence Festival in Gustav Mahler's Second Symphony, one of two works Schultz performs with Salonen and the Symphony in October. Salonen is not only taken by Schultz's beautiful singing, but also hailed her "open, curious, and enthusiastic approach to all kinds of music."
Chamayou's and Purves's appearances come as part of a delightful multiweek focus on works that explore the macabre— just in time for Halloween. Chamayou is heard in Franz Liszt's devilish
Totentanz
(Dance of the Dead) while Purves takes center stage in HK Gruber's zany, cabaret-influenced
Frankenstein!!
. Any performance of
Frankenstein!!
is a notable event and Salonen looks forward to performing with Purves, who he calls one of the great singing actors of our time. As for the piece, scored for orchestra and chansonnier (singing and speaking in a style akin to a German cabaret performer), Salonen said, "It's very hard to say what it is. It's a sort of a window into the mind of Frankenstein with music that is full of surprises and sounds usually not associated with concert music. It's very demanding for a soloist, the chansonnier, but is highly entertaining in the very best sense of the word."
Some of the "old trees" figuring in the fall include Igor Stravinsky's
The Firebird
, Gustav Mahler's Second Symphony, Hector Berlioz's
Symphonie fantastique
, Richard Strauss's
Also sprach Zarathustra
, as well as Béla Bartók's Concerto for Orchestra and Suite from
The Miraculous Mandarin
. Salonen sees Bartók as a unique progenitor in 20th-century music but stressed that his fascination is not purely intellectual. "I'm also deeply affected by the expressive qualities of this music: the sort of raucous fun that happens, contrasted with the very serious, very dark, very tragic episodes." There is more Bartók to come in the spring, as Salonen and the Symphony complete a project with Pierre-Laurent Aimard to record the composer's three piano concertos.
It all adds up to a signature Salonen season and one senses that this is just the beginning of a dynamic and evolving partnership. As Salonen elegantly expressed, "It is an immense privilege to spend another season working with and learning from this orchestra. I am very happy to take what we have created and share it with the world at large."
STEVEN ZIEGLER is Editorial Director at the San Francisco Symphony