ARTICLES &
INTERVIEWS
These Symphony-commissioned feature articles offer insights into the music you'll hear in the concert hall.
May 1, 2022
Change Agent: Collaborative Partner Julia Bullock
BY CORINNA DA FONSECA-WOLLHEIM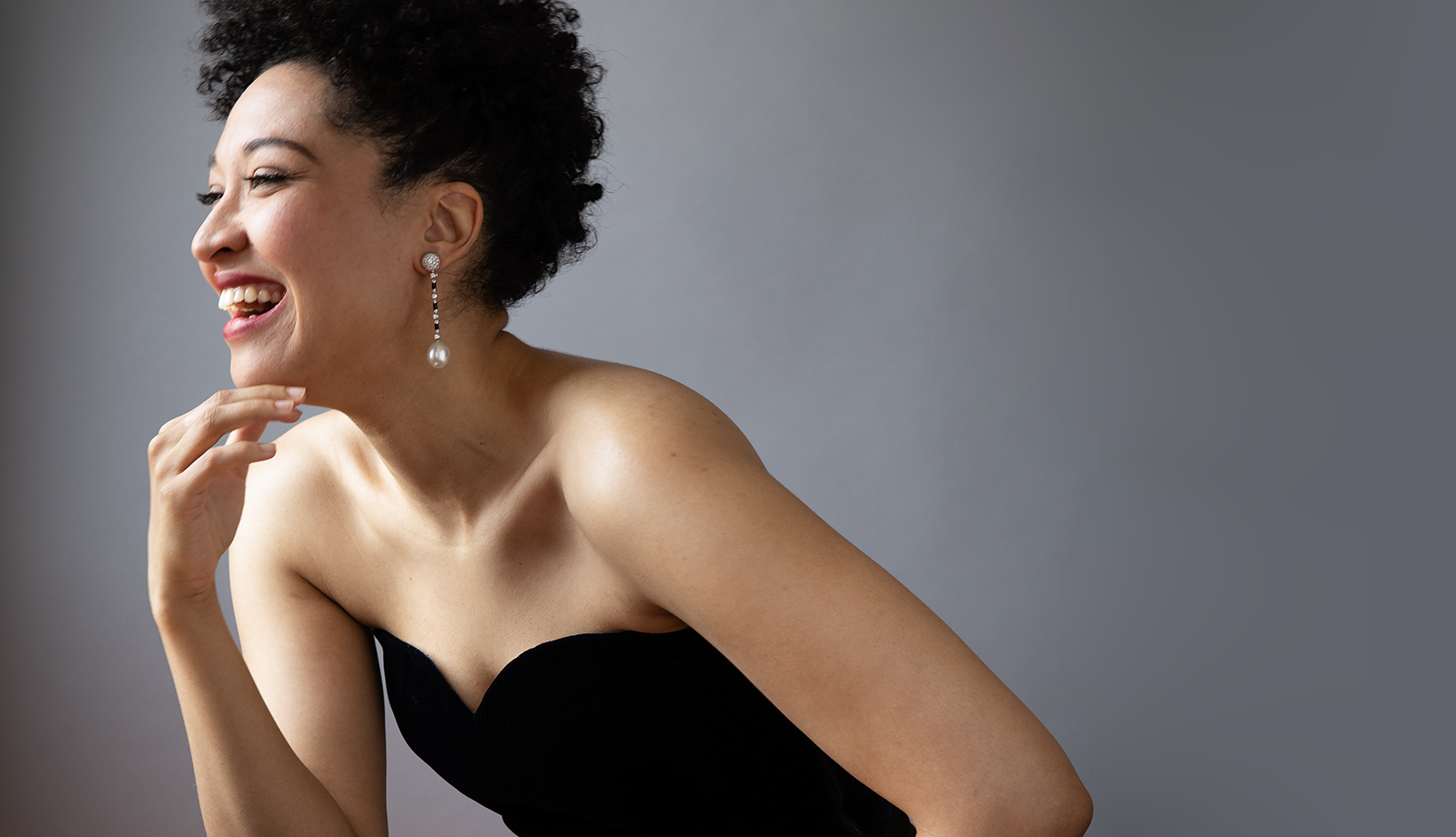 WHEN JULIA BULLOCK WAS YOUNG
, it didn't occur to her that her listening habits were eclectic. When she played Nina Simone records alongside Johann Sebastian Bach, the connection seemed to her explicit and concrete. Her father had raised her on civil rights songs, a legacy of his activist years as a student at Morehouse College. He died when she was nine, but his love of music lived on in the excellent stereo system he had insisted on with its mighty speakers. To hear music at home, then, was first of all to be enveloped by sound. Whether it was The Beatles, Billie Holiday, Laura Nyro, or Jimi Hendrix, Bullock said in a recent interview, "the visceral experience of music was intense and present." Later, she recalled, when she was introduced to classical music through her stepfather, "it was on the same stereo and with the same immersive experience."
Today Bullock is one of the most sought-after sopranos of her generation—and one of its most inventive curators. As an opera singer she is a regular on prestigious stages, equally at home in George Frideric Handel and in John Adams. At the San Francisco Symphony she is part of the circle of Collaborative Partners gathered by Music Director Esa-Pekka Salonen in order to enliven the institution's programs and redefine its mission. Her own recital programs teem with influences. It's not unusual for her to present songs by fifteen different composers in a single concert, including arrangements of popular music, spirituals, and civil rights songs. Bullock said there are some presenters who blanch at the thought of such a motley assembly. But to many her combination of roving curiosity, sharp social conscience, and lyrical gifts hold out a tough-love solution to classical music's identity crisis.
The director Peter Sellars, who has collaborated with Bullock on Henry Purcell's
The Indian Queen
and her evening-long homage to Josephine Baker,
Perle Noire
, told the
New York Times
she was what the field had been waiting for: "not just a vehicle, but an agent of change."
When Bullock looks back to her formative musical experiences, she says many came in recorded, rather than live form. Yes, there was that glimpse, when she was eight, of the explosive stage presence of Tina Turner at a live concert. And Bullock recalled a performance of
Ragtime
, three years after she had lost her father, when something gave way and she cried for the first time since his death. But her own aspirations to become a performer were fueled by recordings, which she studied and analyzed in detail. "Watching people on video in my home allowed me to feel really close to performers, analyze what they were doing and project myself into their spaces," she said. "That felt more real than watching live performances."
The films of Wolfgang Amadeus Mozart's Da Ponte operas directed by Sellars were a touchstone, long before she came to work with him. She studied the way those films conveyed intimacy through attention to small gestures of the hand or fleeting facial expressions. At the same time—she was in high school—she watched her way methodically through the complete films of Federico Fellini, Ingmar Bergman, and Spike Lee. Today, her own performances carry something of the precision of a movie actor in the way she renders tiny emotional impulses, while her diction has the deliberate shadings of vocal artists who work with microphones.
Bullock began to orient herself toward classical music when she entered a training program for high school students at the Opera Theater of Saint Louis followed by studies at the Eastman School of Music, Bard College, and the Juilliard School. But she said she was initially reluctant because an early teacher had presented singing to her as a discipline that demanded limits and sacrifices. Bullock recalled thinking, "why would I want to limit my life when listening to music is all about expansion of life and being immersed in it?"
In her first week at Eastman, Bullock was confronted with more limiting expectations. Her new singing teacher told her that because of how she looked she should prepare for a career specializing in what she called "exotic repertoire." "It wasn't even perceived as an offensive concept," Bullock said, "it simply was the expectation: that artists who look a certain way are to be tokenized, exoticized, and utilized in this particular framework."
For Bullock, the encounter became a catalyst for charting her own path and creating a body of work that would fit and empower her. She became fascinated with the Jazz Age icon Josephine Baker—a Saint Louis native like herself—and invested her own money to commission arrangements of six of her songs. Those became part of Bullock's debut recital, which in turn caught the eye of Sellars and the director of live programming at the Metropolitan Museum of Art in New York. The Baker songs grew into a powerful one-woman show about racism, sexism, and art presented on the grand staircase of the Met—the neuralgic center of the American art scene. Bullock programmed an entire season of events at the museum that probed its relationship with Black American culture. Along the way she commissioned new pieces from Black women composers—among them Tania León, Jessie Montgomery, and Allison Loggins-Hull—that she brings to San Francisco this month. The program's title: History's Persistent Voice.
Looking back, Bullock is grateful for the bluntness with which her voice teacher had revealed the biases of the music world. "How brilliant that in that first week of school, unbeknownst to her or me, I was challenged to ask, 'how do I identify myself as a musician?'"
Though white singers do not have to contend with stereotyping based on their skin color, a different kind of typecasting is routinely tied to an artist's voice type. Bullock said she hopes to encourage singers to expand their dramatic range whatever the voice they were born with. "If classical music is the practice of finding freedom—if the goal is the liberation of the soul through vocalizing, which I think it is—then there is an infinite number of ways to use your voice," she said. "You can either find infinite forms of expression within a narrow lane or stretch out into other arenas."
As one of the San Francisco Symphony's Collaborative Partners she sees herself as part of a collective that gets to unpick the institutional tangle of received assumptions and conventions. That work begins with questions. "How inclusive do you want to be, how much do you want to put your resources toward everyone having those experiences and not just the people in your immediate sphere?" she asked.
The responsibility is in "handling and creating this precious space" so that it becomes one of openness, not control and domination. A symphony, Bullock said, should be "an open place to congregate— one that leaves room for every single individual to have an experience."
Julia Bullock performs History's Persistent Voice
May 17 at Davies Symphony Hall.