ARTICLES &
INTERVIEWS
These Symphony-commissioned feature articles offer insights into the music you'll hear in the concert hall.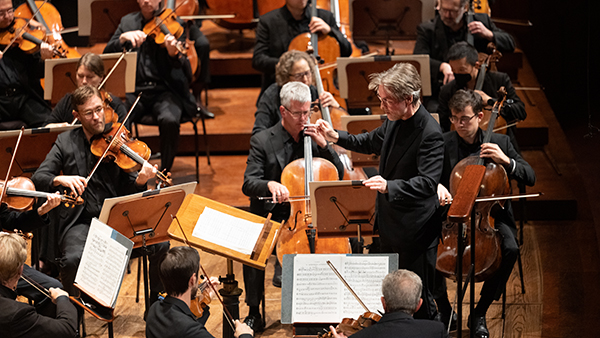 Feb 1, 2023
Salonen Spring
BY STEVEN ZIEGLER
After a fall season that saw a bevy of imaginative concert conceptions, thrilling yet refined orchestral playing, and richly varied programming, Esa-Pekka Salonen and the San Francisco Symphony continue to build momentum this spring with a number of adventurous concerts at home and abroad. In a recent interview, Salonen looked ahead to some highlights in the coming months.
New Works, California Composers
In a spring rich with new music and SF Symphony premieres, three works reflecting a decidedly California outlook stand out. First up, at the end of February Salonen conducts the world premiere of Bay Area–born composer Samuel Adams's No Such Spring, a San Francisco Symphony commission featuring pianist Conor Hanick in his orchestral series debut. Adams first came to the attention of Symphony audiences a decade ago when Michael Tilson Thomas led the West Coast premiere of his Drift and Providence. "Sam is in a very interesting place, stylistically speaking, because he has a very wide range of influences," Salonen said. While Adams has made waves with multi-layered works informed by the worlds of acoustic and electronic music, No Such Spring represents a new direction for the composer, where direct communication with the audience is paramount.
Gabriella Smith has been billed as a "composer and environmentalist." In works such as Tumblebird Contrails, heard here under Salonen's direction in its San Francisco Symphony premiere this March, the Berkeley-born composer explores the craggy intersection between the natural world and art. "Gabriella's music is very free," Salonen said. "Stylistically, you could call it fusion, but it's more than that. It has a very distinct identity, and I'm a big fan of hers." Salonen teased future collaborations, noting that Smith's music "will be a part of our programming for the years to come."
Later in the season, Salonen conducts the first Symphony performances of black iris, by Los Angeles–based composer Reena Esmail. Esmail, who curated a fluidly varied SoundBox program earlier this season, has gained notice for forging a musical language that draws on her rigorous study of the classical music traditions of both India and the West. Salonen noted, "When [Reena] uses materials from Indian classical music, they become a very powerful means of expression. It's her own language and the result is unique."Drawing on elements of Hindustani music, black iris is a strong statement on the #metoo movement.
Collaborative Partners Return
The spring also features a flurry of activities featuring the Symphony's Collaborative Partners, beginning in February with a SoundBox program co-curated by Pekka Kuuisisto and composer/developer Jesper Nordin and a special production of Marcos Balter's Pan, a sort of monodrama for solo flute and community chorus, spearheaded by Claire Chase. The coming months also include SoundBox programs curated by Nico Muhly (with featured artist Yuja Wang) and Nicholas Britell (a special film-themed presentation featuring filmmaker Barry Jenkins), and season-closing Orchestral Series concerts with Julia Bullock, led by Salonen. While the influence and inspiration of the Collaborative Partners is already evident in how the San Francisco Symphony is moving into the future, Salonen stresses that the Partners' real contributions to the organization will occur more gradually over a number of years.
A New Tour Model
Orchestral tours often follow a predictable pattern, with ensembles making brief stopovers in as many cities as possible. The Symphony's March tour to Europe, Salonen's first with the Orchestra, jettisons quick visits in favor of multifaceted programs in both Hamburg and Paris. Salonen hopes that these concerts will help build long-term reciprocal relationships with cultural organizations in both cities, including future co-commissions and visits to San Francisco from ensembles such as Orchestre de Paris. "If we treat these tours as residencies, rather than one-night stands, it will change the game," Salonen said. "Because then a symphonic organization goes to a town where you can really show what the organization is about—acting as a cultural ambassador and really having an impact on the city's cultural life." Collaborative Partners Chase and Muhly also join the March tour to present imaginative concerts that push the boundaries of tour programming: Chase reprises Marcos Balter's Pan in Paris, while Muhly and Yuja Wang helm the first-ever SoundBox performances outside of San Francisco.
Sellars, Saariaho, Salonen
Last season's promising first entry in the Esa-Pekka Salonen/Peter Sellars/SF Symphony partnership, Igor Stravinsky's Oedipus Rex and Symphony of Psalms, garnered critical acclaim and marked a notable new direction in the Symphony's staged productions. This season, Sellars stages Kaija Saariaho's Adriana Mater, a nuanced exploration of the atrocities of war and their repercussions on future generations. Having led the 2008 Paris premiere of the work (also directed by Sellars), Salonen is eager to revisit Saariaho's opera in San Francisco with a new Sellars production. Salonen and Saariaho share a long history that began when they were both young firebrands in Finland's new music scene in the late 1970s. "One of the most satisfying aspects in my artistic life is having long-term collaborations with important composers," Salonen said. "I know Kaija's language so well that there's almost no translation: It almost feels like my own."
Artist-in-Residence Igor Levit
Pianist Igor Levit joins the Symphony for an intensive two-week span of concerts, comprising concerto appearances, a solo recital, and a chamber music program with SF Symphony musicians. Salonen speaks effusively about Levit, comparing him to a "brilliant restorer of old paintings." Levit's magical touch will be heard in Ludwig van Beethoven's Fifth Piano Concerto, while the pianist shows a different side in Ferruccio Busoni's gargantuan Piano Concerto, heard here in its first SF Symphony performances. Salonen called the work "the strangest piano concerto ever written," noting that it is "a massive but utterly fascinating journey, full of beauty, struggle, love, and pain."
STEVEN ZIEGLER is the San Francisco Symphony's Editorial Director