ARTICLES &
INTERVIEWS
These Symphony-commissioned feature articles offer insights into the music you'll hear in the concert hall.
Mark Inouye believes in giving his all to reach his goals in music, sports, and life.
Jan 15, 2019
Meet The SFS Musicians: Principal Trumpet Mark Inouye
Mark J. Inouye
Principal Trumpet, William G. Irwin Charity Foundation Chair
SFS member since: 1999
Hometown: Davis, CA
Running, Surfing . . . And All That Jazz
"I hate running."
In fact, Principal Trumpet Mark Inouye hates it so much, he runs the California International Marathon every year, in addition to several half marathons and 10Ks while training. This past September, he took part in the Giant Race (sponsored by Mark's beloved SF Giants) and ran the 5K, 10K, and half marathon segments . . . all on the same morning. And he's qualified for the holiest of long-distance holies, the Boston Marathon.
But Mark is adamant: "I should get one of those t-shirts that says 'I hate running.'" But what he does love is the idea of improving in anything, especially in sports, an enthusiasm he's felt since childhood. "I remember my dad always said when I was a kid, 'hard work pays off.' Of course that applies to my life now, trumpet or no trumpet. Now, I don't fear a challenge. I just know that if I'm disciplined, and can break things down, and set certain goals, nothing but good can come from giving 110% to try to reach that goal."
Aside from sports, Mark's other major outside interest is jazz. He often appears as a guest with the Bay Area's Trumpet Supergroup, and has his own jazz CD (The Trumpet & The Bull). His early enthusiasm for jazz was sparked by recordings of the legendary trumpeter Clifford Brown ("his fire and energy immediately spoke to me") as well as Wynton Marsalis, who became a mentor and friend. "When I hear solos from those guys, I walk away a better, more-inspired musician!"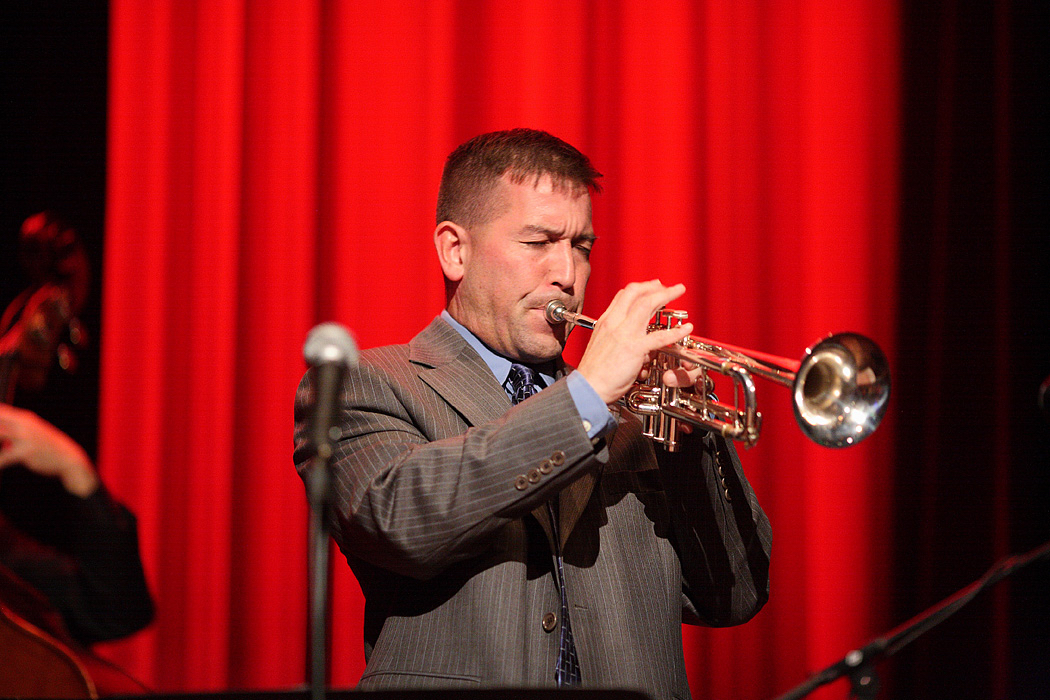 Inouye (shown here performing at Bay Area club Yoshi's) is at home in both the concert hall and the jazz club.
Obviously, Inouye sees no contradiction between the classical and jazz sides of his musical personality. "For me, nothing is more spontaneous than, nothing keeps you on your toes or keeps your musical radar up like playing in a jazz ensemble, and reacting to something someone else is creating on the spot. When I'm playing with the Symphony, I try to maintain that jazz mentality, responding to anything, immediately. I want to let my personality and ideas come through; even if it's a four-measure passage, I try to have that jazz mind frame."
So what's the connection between sports and music for Mark Inouye? "Athletes and musicians have similar relationships with their audiences and the preparation for both is so similar. You and I can go out and watch a game, and absolutely love it and appreciate it, the same way anyone can walk into Davies Symphony Hall and appreciate it. Hopefully you'll be inspired, and walk out of there the way we walk out of AT&T Park after a World Series victory. So we try to give playoff-caliber performances every night at the San Francisco Symphony!
Mark Inouye appears as SFS Musician of the Month through the generous support of Anita and Ronald Wornick.