ARTICLES &
INTERVIEWS
These Symphony-commissioned feature articles offer insights into the music you'll hear in the concert hall.
Apr 1, 2022
Music as Medicine: Collaborative Partner esperanza spalding
BY CORINNA DA FONSECA-WOLLHEIM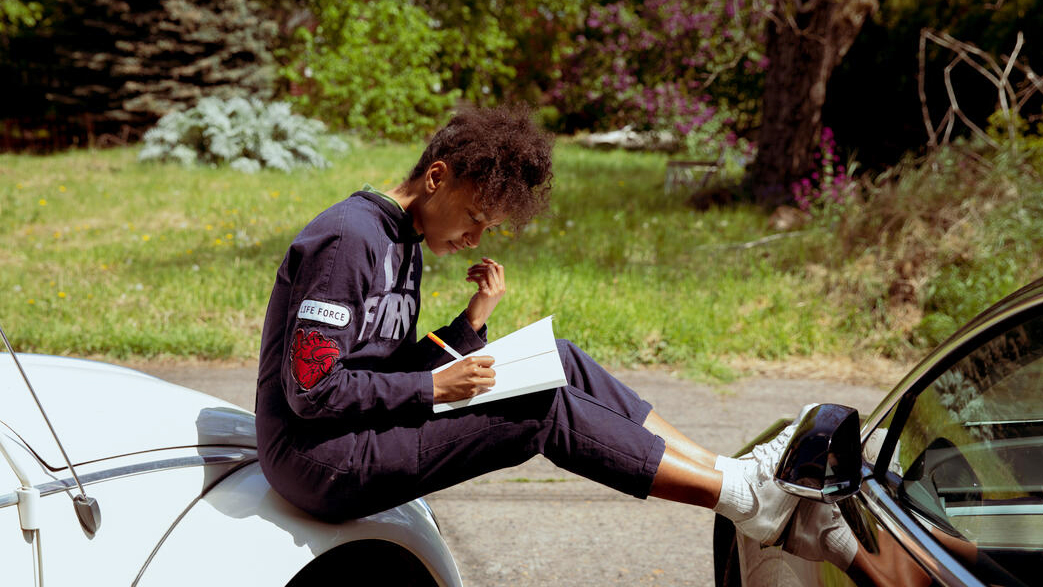 asd
WHEN ESPERANZA SPALDING WAS five, she heard Yo-Yo Ma playing a Bach suite on television. The sound of the cello set off an "explosion of pleasure" in her, she recalled in a recent interview. And it sparked the desire to "live inside" of that sound.

Today, spalding is a Grammy Award- winning bassist, composer, and activist whose career is anchored in the inky depths of the musical register. In her compositions, which tenderly weave together threads from jazz, funk, and classical music, the bass is emancipated from its supporting role, with lines that can be cerebral, seductive, or spiky. In concert, she often plays complex patterns on the upright or electric bass while singing mercurial melodies.

At the San Francisco Symphony she is one of the Collaborative Partners Music Director Esa-Pekka Salonen invited to help shape the artistic direction of the organization. At the Re-Opening Night Gala this season, which later aired on PBS' Great Performances, she gave a mesmerizing performance of Wayne Shorter's Gaia, where the orchestra added cinematic sweep to her ecstatic, intimate vocals. In collaborating across the fault lines between jazz and symphonic music, she said, "we're aspiring to the magical and the profound in all our human messiness."

Much of spalding's work these days is about honing in on the magical—and medicinal—powers of music. "There are so many ways that the relationship between the music and the listener can be therapeutic," she said. At the symphony, too, "whoever is coming is not there to analyze how in tune the second clarinets are with the bassoon," she said. "Whether you admit it or not, they are coming for a sense of well-being."

To spalding, virtually all music is music therapy. Some of her own recent compositions take the form of amulets and prescriptions, designed to address specific ailments and needs. Each song on her 2018 album 12 Little Spells is dedicated to a different body part. In collaborative workshops she dubs Songwrights Apothecary Labs she cooks up songs called "formwelas," with medicinal indications that are as precise as they are poetic.

"Formwela 7," for instance, promises "a sense of permission to close one's eyes and allow others to perceive that the listening faculty is fatigued." The song begins a cappella, with slender, questioning vocals that give way to an eruption of fuzzy electric bass and drums, then slips back to a simple piano accompanying spalding's coolly soothing voice.

Like her singing, her lyrics have both forensic precision and poetry. As a vocalist who is capable of virtuosic wordless improvisations, spalding is acutely aware of the potency of language. "It's like wizardry," she said. "To me, it's the last place in this age of the image where the recipient has to meet your work with their imagination in order to complete it. Particularly when traveling through notes and surrounded by harmonies, language has to be tended to with great care. But it's fun to work on what I imagine could be really specific sensory experiences of a given word and sound."

In San Francisco, she is now planning a fictional documentary, in collaboration with the transdisciplinary artist Brontë Velez, about the invention of a device whose sound can stop bullets. As a child growing up in a violent neighborhood in Portland, OR, spalding spent some nights sheltering in the bathtub while gun shots rang out in the streets. She said there was power in even just asking the question of what sound might stop a bullet.

"It brings us into a sense of our fragility," she said. "We are tender creatures who are vulnerable to these highly powerful weapons that are surrounding us. This invites us to touch the center of that ache and fear. And it's an invitation to think of responses to violence that are not about generating a superior force, but to access a different part of our imagination from that space of vulnerability."

The longing for more equal and interdependent relationships is part of what drew spalding to jazz in the first place. After that early epiphany with Bach, she took up the violin and embarked on a classical track. In high school one day, a double bass materialized in a practice room in her high school. A teacher noticed her fascination and showed her the rudiments of improvisation, how to plot lines out of the notes of a given chord. Then they played together, and something clicked. Until then, spalding said, she had been too embarrassed to admit that she was often playing by ear rather than reading. Suddenly, here was a musical practice that valued her capacity to hear and respond to the harmonies in real time in order to shape the music.

That practice led her to a community where she could feel at home. "That searching spirit, the mutual trust and exploration, seem to carry over into the culture of engagement," she said. "Honestly, what attracted me was the way people were curious about and invited me into the music." She also appreciated the fact that, like classical music, jazz required rigor, but also an ability to set it aside for the sake of the whole, "where whatever you have prepared that day is surrendered for the sake of co-creating a yet-to-be discovered musical phenomenon."

It didn't take long for her to make her mark on the jazz scene. At twenty, spalding became the youngest instructor at Berklee College in Boston. In 2011, when she was twenty-six, she became the first jazz artist to win a Grammy in the coveted Best New Artist category, where other nominees included megastars like Justin Bieber and Drake. The BBC called her the "bright young hope of jazz."

But spalding is careful to place quotation marks around that term. "The word 'jazz' is problematic because it wasn't coined by the communities that generated this music," she said. In an echo of concerns plaguing the classical scene, she is also uncomfortable with what she calls the "shrouds of elitism" that have wrapped themselves around jazz in America, while creative energy flowed into new forms of vernacular improvisation like Hip Hop and soul.

On a visit to Cuba she was struck by the vitality of not only the jazz performers there, but also the listeners. "The audience felt like they were in relationship, in conversation to the music, as if it was theirs to dance to, shout out and respond to," spalding recalled. "I came home really longing to have that experience."

CORINNA DA FONSECA-WOLLHEIM is a writer and the founder of Beginner's Ear.