ARTICLES &
INTERVIEWS
These Symphony-commissioned feature articles offer insights into the music you'll hear in the concert hall.
Jan 13, 2019
Meet The SFS Musicians: Violinist Yun Chu
Violin
SFS member since: 2002
Hometown: Shanghai, China
On the Wings of Music
When Yun Chu was a child in Shanghai, a neighbor heard him playing a toy piano outside the family home, and recommended his brother, a violin teacher, as Yun's first serious pedagogue.
For a young boy practicing isn't always fun. It means "tears and sweat, sometimes much more than happiness," Yun recalls. Luckily for him, there was a homing pigeon loft right outside his practice room window. "Each day, I'd watch the pigeons soar. It was fascinating. I looked forward to it."
The young violin student improved steadily, landing a spot at the prestigious Shanghai Conservatory of Music and then, at just twenty years old, winning a scholarship to study at USC in Los Angeles with Alice Schoenfeld. "She and her sister Eleonore [a renowned cellist] were really close to me; they treated me as their own child. I feel really grateful."
Although Yun had been looking towards a career as a violin soloist, he was (without knowing it) being pulled toward a life as an orchestral violinist. Before arriving at USC, he had performed extensively as concertmaster with the Asian Youth Orchestra. Once in LA, Yun continued playing with youth orchestras, touring Europe and elsewhere. The groundwork had been laid for an epiphany. Yun remembers exactly when it happened. Walking by the construction site for Walt Disney Concert Hall after a Los Angeles Philharmonic concert at the Dorothy Chandler Pavilion, he turned to a friend and said, "When this hall is finished, we'll either be in it, or we'll be members of a first class symphony orchestra!"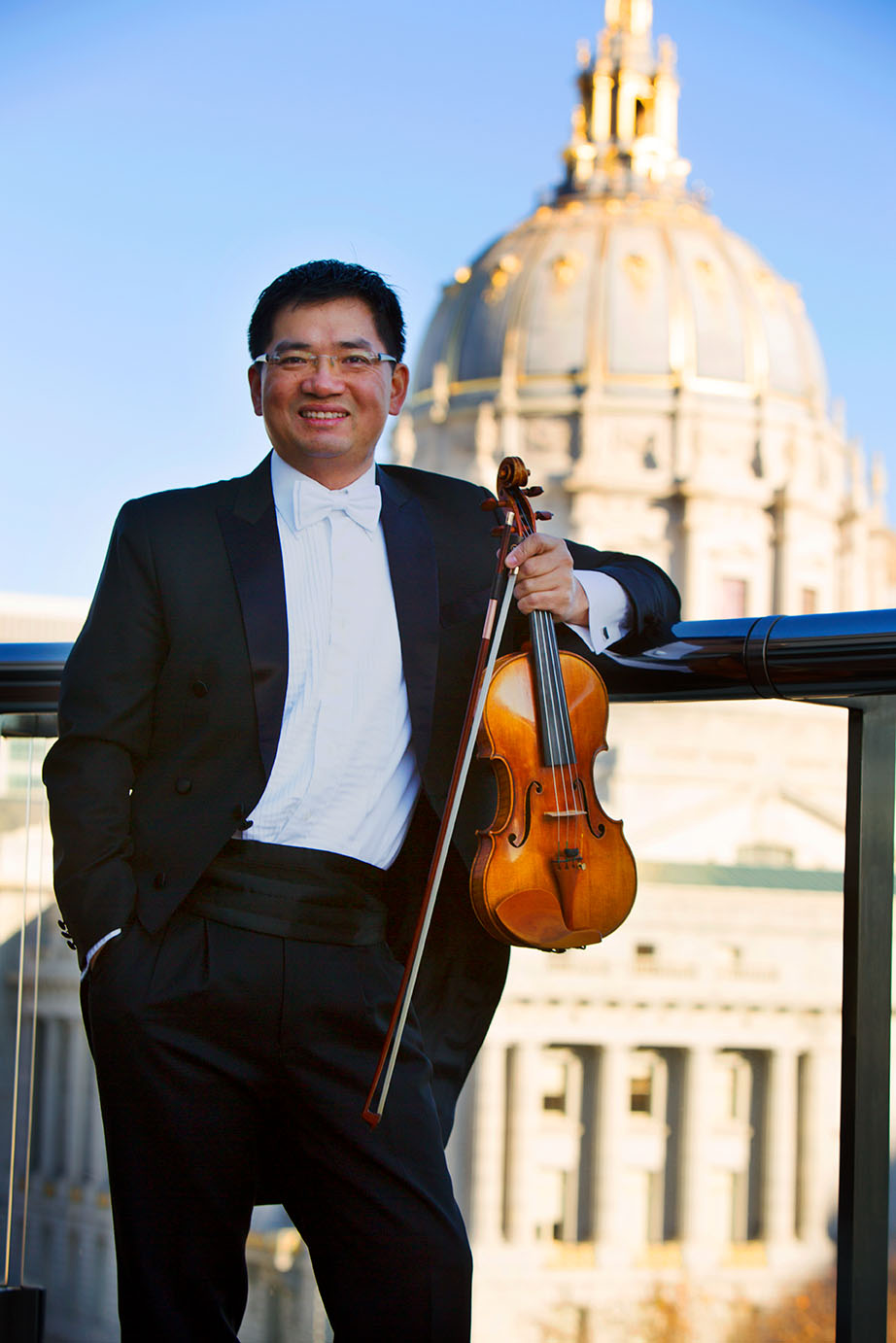 Yun Chu on the Second Tier balcony of Davies Symphony Hall. Photo by Jeanette Yu.
It wasn't long before that wish came true, in an almost mystical fashion. Yun heard from a childhood friend that there was an opening in the San Francisco Symphony, and urged him to audition. The friend? SFS Associate Principal Viola Yun Jie Liu (who Yun Chu affectionately refers to as "Uncle Jay"), whose father had been Yun's first violin teacher back in Shanghai. At this point, Yun Chu was still a student. But he decided to go for it, practicing furiously for five months, advancing through the challenging audition process, and landing a spot in the first violin section.
And those homing pigeons he loved back home in Shanghai? Today Yun himself is an avid pigeon racer. "I wake up very early, drive the birds for a hundred miles, let them go, and try to beat them home. After I feed and water them, I drive straight to rehearsal!
"I feel I was lucky to always have pigeons with me; they helped me reach my goal, my destiny."


Yun Chu's journey from Shanghai to the San Francisco Symphony is an inspiring saga of talent, diligent practice, and fate.
Yun Chu appears as SFS Musician of the Month through the generous support of Marie and Barry Lipman.