ARTICLES &
INTERVIEWS
These Symphony-commissioned feature articles offer insights into the music you'll hear in the concert hall.
Jul 1, 2022
Mason Bates: Making the Orchestra
BY STEVE HOLT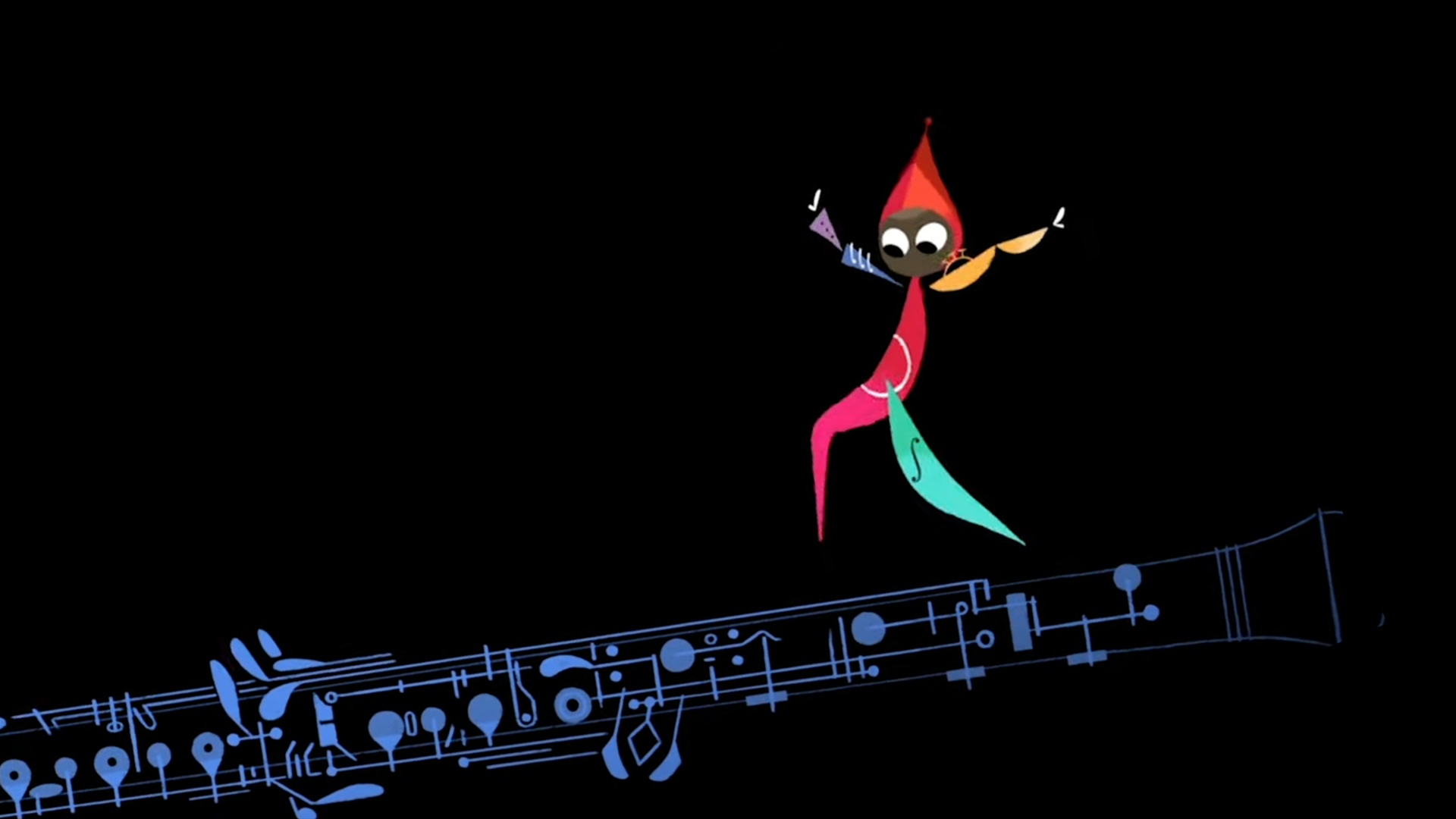 MASON BATES IS A CELEBRATED COMPOSER AND DJ with deep ties to the San Francisco Symphony. On August 4–5 the San Francisco Symphony and conductor Teddy Abrams present the first San Francisco Symphony performances of Philharmonia Fantastique: The Making of the Orchestra, a Symphony co-commissioned new film/music work Bates created with award-winning filmmakers Gary Rydstrom and Jim Capobianco. We spoke to Bates as he put the finishing touches on this exciting new piece back in 2020 before the pandemic delayed the work's premiere by two years.
What's the story of Philharmonia Fantastique?

It's a kind of multimedia concerto for orchestra, an animated film performed in concert with a live orchestra. A new format of "screen + orchestra" has emerged because of film nights at orchestras, and it seemed the perfect medium for a "guide to the orchestra" that I've wanted to write for a while. It clearly has a young person's energy, but it's very much intended for all ages.
In the film, we see a sprite actually fly inside the instruments while they're playing?

Yes! Seeing how instruments work, from the inside out, is one of the special angles of the piece: the connection of creativity and technology. So director Gary Rydstrom, animator Jim Capobianco, and producer Alex da Silva designed a unique hybrid of animation and live action. Lots of special effects photography went into this. In one case, we had to drill into a cello, so we could install a tiny lens and lighting. Honestly, the day we were filming all that stuff in Berkeley was one of the best days of my life. It was as if the instruments were some kind of gold statue from an Indiana Jones movie, and we'd pick one out and put it on a little pedestal and put cameras around it. We'd say "Oh, wow, look at the keys of the bassoon when you put the light on it. Look how the timpani skin stretches when you tune it."
Can you relate it to some other compositions?

Certainly Disney's Fantasia comes to mind, as does Benjamin Britten's The Young Person's Guide to the Orchestra; but on the stylistic level, Philharmonia Fantastique is closer to Béla Bartók's Concerto for Orchestra. That's an iconic piece that created the form of exploring instruments in the orchestra as if they're soloists. But here, we actually built the animation around the musical necessities for each instrument.
In a way, this piece is kind of worshipping at the altar of the orchestra. It depicts the instruments as beautiful technology. And I think it's a story that we really couldn't tell at any other time. We needed the abilities of contemporary animation and filming.
On a musical level, the way to think about it is the four families of the orchestra [strings, woodwinds, brass, and percussion]. Each has its own sound world and themes. And that to me is something that is interesting on a human level too. The orchestra is an amazingly diverse group of sounds and technologies, and they all synthesize together in this incredible way. And I'm sure we can extrapolate from that how we deal with our many human differences and different people. An oboe and a violin are very different, but they can still make music together, right?
When you're working on a new composition, are deadlines a help or a hindrance?

[laughter] Definitely stressful, but definitely useful as well. On the one hand I'd think "we've got to wrap this up," but on the other hand, it was "Hey, this is The Making of the Orchestra. So let's get the orchestration right!'
You've collaborated with the San Francisco Symphony many times. Walk us through how that relationship developed.

It began with Michael [Tilson Thomas] commissioning The B-Sides [which premiered at Davies Symphony Hall in 2009]. That led to more collaborations at the New World Symphony, and more San Francisco Symphony commissions [such as the Piano Concerto, Mass Transmission, and Auditorium]. And we had the Beethoven and Bates Festival in 2014. They recorded the whole thing, and we got nominated for some Grammys. It's probably the coolest festival I'll ever be part of!

STEVE HOLT is a Contributing Writer to the San Francisco Symphony program book.