ARTICLES &
INTERVIEWS
These Symphony-commissioned feature articles offer insights into the music you'll hear in the concert hall.
SFS Principal Bassoon Stephen Paulson shares his love for music, his family, and San Francisco.
Dec 10, 2018
Meet The SFS Musicians: Principal Bassoon Stephen Paulson
Stephen Paulson
Principal Bassoon
Member since: 1977
Hometown: Plainview, NY
School: Eastman School of Music
Beginning on bassoon: My parents, though not musicians, were great classical music enthusiasts. I began playing bassoon at age twelve when I switched from clarinet in my junior high band. My director didn't play the bassoon so I had to teach myself for three years before I finally took my first lesson with a bassoonist.
A defining moment: In my junior year of high school, I went to our local record store and picked up an LP of Stravinsky conducting The Rite of Spring. I also got scores for The Rite and Stravinsky's Octet, which were great in their own right—they just looked impressive. I remember sitting on the floor of my living room with my head between the speakers listening to this thinking "This is what I want to do."
Favorite composers: Mahler, Stravinsky, Beethoven, Dvořák, Bach, Mozart [Paulson plays the Bassoon Concerto with the SFS, Debussy, Dutilleux, Harbison
Favorite part of being in the San Francisco Symphony: Discovering a new appreciation for a piece of music that I had taken for granted in the past.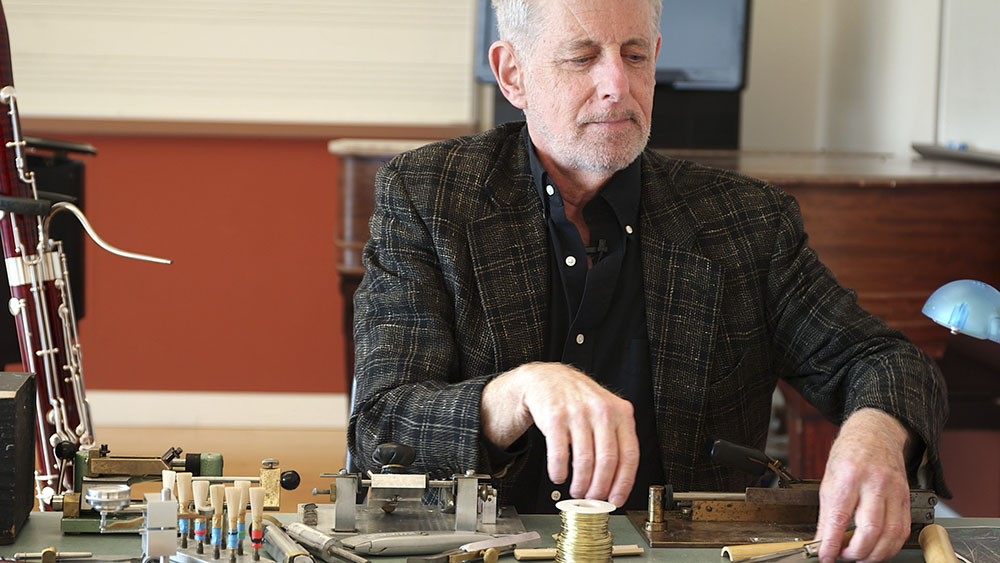 Stephen Paulson makes a reed for his instrument.
On conducting: I've been the conductor of Symphony Parnassus in San Francisco for many years. I love working with the orchestra and helping it develop its sound. The most gratifying thing is getting to explore the major orchestral pieces from the conductor's point of view. It helps me when I come back and play with the SFS: I hear more of what is happening on stage, and it makes it more fun. I've also enjoyed leading a few of the SFS Community of Music Makers Woodwinds and Brass workshops.
On teaching: I teach bassoon at the San Francisco Conservatory of Music, which gives me a chance to share my passion for music in a different way from performing. I enjoy teaching beginning as well as advanced musicians and I love watching young minds develop.
Other interests/activities: Hiking in Point Reyes with family, cooking.
Favorite reading/listening: The Rest is Noise, by Alex Ross; novels of Richard Russo. I like to listen to works I am preparing to conduct.