ARTICLES &
INTERVIEWS
These Symphony-commissioned feature articles offer insights into the music you'll hear in the concert hall.
Dec 3, 2021
Changing Perception: Collaborative Partner Nico Muhly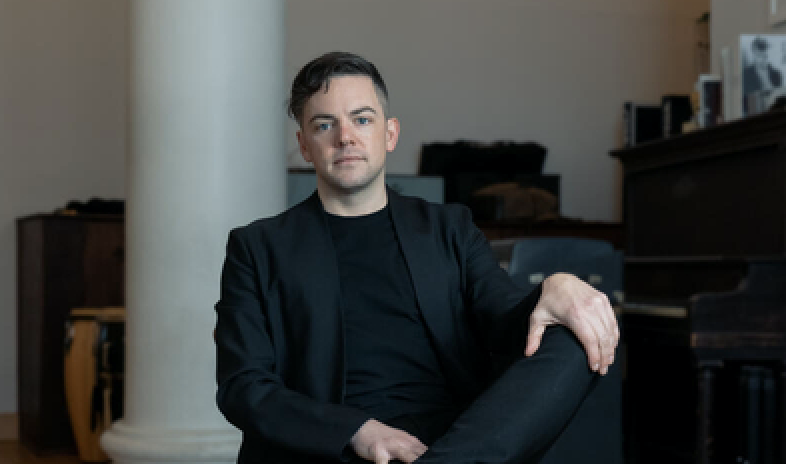 By Corinna da Fonseca-Wollheim
It was pouring one morning in London when the composer Nico Muhly stepped off a red-eye flight only to be told that his hotel room was not ready. As he wandered jet-lagged through the streets, he found himself in front of Saint Paul's Cathedral and, on a whim, entered. Inside he was enveloped in familiar sounds. Up above, an organist was practicing one of his compositions. Muhly sat and listened for a while, then slipped out without making his presence known.
"I didn't go up. It was so strange," he recalled during an interview in his Manhattan studio. The anonymous encounter with his own creation was one of "the most moving moments I've had as a musician."
As one of the most prolific and visible American composers of his generation, Muhly, 40, is accustomed to the limelight. He was twenty-nine when his true-crime opera Two Boys, hailed as "a work of dark beauty" by the New York Times, premiered at English National Opera. It later traveled to the Metropolitan Opera, as did his subsequent psychological thriller Marnie. He has been commissioned by Carnegie Hall, scored ballets for Benjamin Millepied, and worked with pop stars including Björk and Sufjan Stevens. At the San Francisco Symphony he is one of the eight Collaborative Partners assembled by Music Director Esa-Pekka Salonen to chart a new course for the institution.
But the musical world Muhly feels most at home in is one where sound merges with ritual and there is no applause. As a boy chorister in his native Rhode Island, his musical education unfolded to the rhythm of the liturgical calendar. Until he moved to New York City as a student, he attended orchestral concerts only rarely. As a result, his relationship to music is embodied differently. "For me, weirdo that I am, heaven is sacred music, where no one claps and it happens at 4pm on a Wednesday," he said. "And some of it you will only hear while standing: you will not hear the canticles, the Magnificat or Nunc dimittis, seated. That changes your whole perception. Or if you're in a certain Anglican church when the Agnus Dei is sung you are probably on your way to communion, walking your way up the choir."
Muhly said that while performances in the concert hall activate a different response in him, there, too, he is curious about the web of interests, needs, and desires present in an audience at any time—the different reasons why people come to be there in the first place. He likens it to an old European church, which bears witness to successive architectural styles and cultures. Not only is the building itself a giant palimpsestic structure, he said, but the visitors it attracts on any given day bring with them a layering of mental states.
"There will be one art historian with a little clutch of students, because there is one fresco that is of interest. There will be an architectural historian, or homeless people, or people who have always gone to church, or someone lighting a candle for their dead mother." Returning to the world of music, Muhly said that the question for him as a composer becomes: "how do you narrate a piece that allows for various interpretations of what it is, and you don't have to be there looking for a climax or for this particular story?"
In fact, much of Muhly's music exudes openness and space. In his twenties he worked as an apprentice to Philip Glass and absorbed some of the language of Minimalism with its flurries of repeated motifs that create kinetic flow. There are echoes of Anglican church music and nods to Benjamin Britten's gentle harmonic ambiguity. Just before the pandemic he completed a violin concerto, Shrink, for the Finnish violinist Pekka Kuusisto, who is a fellow Collaborative Partner at the San Francisco Symphony.
The concerto's title refers to the intervals, the span from one note to the next, that dominate each movement, and which diminish over the course of the piece. The opening is a rising ninth—an octave plus one step—that immediately establishes a mood of excess and daring. As the music charges forward the soloist and orchestra jostle to control the momentum.
"It's unconducted," Muhly said. "And it's actually really great teamwork. It's always about: who's in charge of the pulse?"
Teamwork, to varying degrees, drives much of Muhly's output. Writing for a soloist like Kuusisto he said is like having "another person in the room with you psychologically." Projects like the multimedia extravaganza Planetarium, which he created with Sufjan Stevens and Bryce Dessner—now also a Collaborative Partner in San Francisco—grow out of group exploration. And in the worlds of opera, ballet, or film and television the number of people who have a stake and a say in a piece grows exponentially. So does the speed at which feedback is offered and metabolized. At the moment, Muhly is scoring a Korean television series based on an award-winning novel. Sometimes, he said, "I will send in something at ten o'clock in the morning, and at 10:07 I already have notes on it."
One of the more unusual collaborative projects Muhly was drafted into was Throughline, a piece he wrote and conducted in increments for the San Francisco Symphony during the tense pre-vaccine stage of the pandemic. Featuring each of the Collaborative Partners as well as members of the orchestra, Muhly said, "it turned into a concerto for an organization." Compositionally, the challenge was to write individual showcases for some soloists, like the flutist Claire Chase or the soprano Julia Bullock, and linking them to original material generated by others: Carol Reiley contributed a score conjured by artificial intelligence; the vocalist and bassist esperanza spalding sent in her own improvisations.
Muhly recorded the individual components of the piece with small pods of Symphony players—a rare chance to break down the invisible wall that divides composers from orchestral musicians. "The protocol of some orchestras means that the composer never speaks directly to the players, but rather via the conductor, and even then in a limited and sometimes awkward way where you're basically speaking to the whole orchestra even if you just have a small proposed modification for the timpanist." The peculiar work process of Throughline, forced by the pandemic, created personal bonds. "That was a joy," he said.
As the San Francisco Symphony emerges from the pandemic, Muhly looks forward to building on those connections. He would like to bring young audiences into rehearsals, to crack open the process behind the high-polish concert. He would like to devise a system for new artists to pay it forward: "If you get an interesting younger artist to do anything, a concerto or a commission, it should be built into that to ask the younger person to curate the next younger person," he said. Even at forty he said he's aware that success can create its own blind spots. "There is a threshold you pass and then there is a lot of music you don't know is happening."
And he relished the chance to program a concert in the Symphony's SoundBox series that included some of the sacred music he loves so much, and which is normally shut out of the concert hall. Whether it's very early repertoire or experimental work, he said, "there's so much music that would never cross an orchestral musician's desk, and in the same way that musicians who play in an opera pit would have to go out of their way to play chamber music, it seems like a modern orchestra owes itself to figure out the ways in which other musics can inform and reinforce and cross-pollinate the existing traditions." Diversifying the sounds and styles beyond the traditional symphonic canon, Muhly said, enriches an entire institution: "It helps put glass on the wall and let light in."
CORINNA DA FONSECA-WOLLHEIM is a writer and the founder of Beginner's Ear.