ARTICLES &
INTERVIEWS
These Symphony-commissioned feature articles offer insights into the music you'll hear in the concert hall.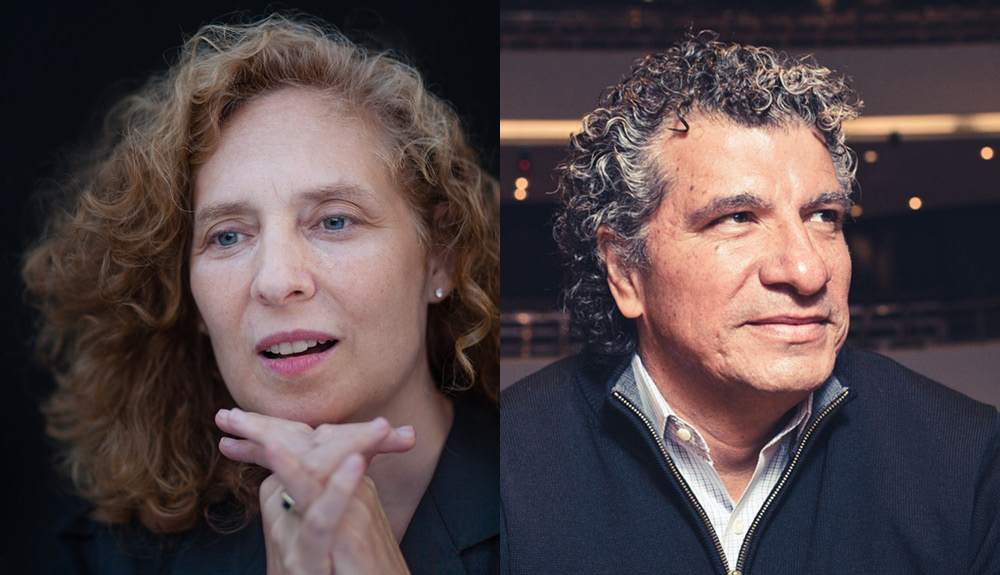 May 1, 2023
Contemporary Connections: Conductor Giancarlo Guerrero
BY STEVEN ZIEGLER
Giancarlo Guerrero leads the West Coast premiere of Julia Wolfe's Her Story with the San Francisco Symphony and Lorelei Ensemble, May 25 and 27.
For anyone who says they don't like new music, conductor Giancarlo Guerrero offers an anecdote. "Imagine if you were alive in 1808 and you were walking down the street in Vienna, and you saw a poster that said that some guy named Beethoven was premiering two symphonies. Knowing what you know now, would you miss that? So, what's the difference now? You're given a chance right now to go and hear this incredible new work with the composer present." Music Director of the Nashville Symphony for the last decade-plus, Guerrero is one of this country's most ebullient champions of contemporary music. In May he leads the San Francisco Symphony in the West Coast premiere of Julia Wolfe's Her Story with the Lorelei Ensemble. In a video interview conducted last spring, Guerrero spoke widely about his work promoting contemporary music. "Expanding the repertoire is something that is very close to me, because when you hear a Beethoven symphony through the prism of a John Corigliano piece, the Beethoven symphony has a chance to sound fresh again." Guerrero offered a world premiere by Corigliano, along with works by Astor Piazzolla, Antonio Estévez, and Adolphus Hailstork, as part of his memorable and wide-ranging San Francisco Symphony debut a season ago.
Born in Nicaragua, Guerrero spent his formative years in Costa Rica, before coming to the United States to study music. As a young percussionist, the thought of being a conductor seldom crossed his mind. His outlook changed when a conducting teacher spotted his potential and convinced him to give it a serious try. "I was in the back of the orchestra with two sticks. Now I'm in the front with one stick. That's a bad joke, but that's really what happened." Now, he heads two acclaimed international orchestras and is a regular guest with the world's leading ensembles.
Guerrero's tenure in Nashville has been defined in large part by the numerous commissions and world premieres he has given with the orchestra, along with 15 recordings of American music. Given his track record, it was only a matter of time before he crossed paths with Julia Wolfe, whom he called "one of the most important living American composers." Wolfe has staked her claim in the contemporary American music scene through her work as co-founder and co-artistic director of the revolutionary new music collective Bang on a Can. A Pulitzer Prize winner in 2015 for the oratorio Anthracite Fields, which focused on the experience of Pennsylvania coal miners, Wolfe is the midst of a remarkable run of what one writer has called "docu-torios," works that grapple with the thornier elements of America's history and legacy. Following on the heels of Fire in my mouth (2019), a choral-orchestral work exploring the lives of New York's turn-of-the-century garment workers, Her Story addresses the centuries-long fight for women's rights in the United States. The workgrew out of a conversation between Wolfe and Beth Willer, director of the all-female Lorelei Ensemble, who was interested in creating a vocal work to mark the centennial of women's suffrage in this country. Her Story was originally slated to debut with Guerrero and the Nashville Symphony in 2020 on the anniversary of this important milestone but was delayed, like so many other new works, by the pandemic. Guerrero led the belated premiere with Lorelei in Nashville earlier this season, with subsequent performances planned for each of the co-commissioning orchestras, which include the San Francisco Symphony, Chicago Symphony, National Symphony, and the Boston Symphony.
While Her Story marked Guerrero and Wolfe's first project together, the conductor noted that he had been a fan of Wolfe's work for many years. "Julia was on my short list of composers that I knew I wanted to collaborate with, but at the same time, it had to be the right project. Her Story was just a perfect storm." In commissioning new works, Guerrero enjoys collaborating closely with composers to bring a particular work to life. "I basically just give the composer free rein," he said. "To me one of the most fun things as a conductor is putting together not only the orchestra, but also working with these great minds to bring their vision to life. It's both exhilarating and scary at the same time." The process with Wolfe was particularly rewarding for Guerrero. "In my conversations with Julia about the piece and about the whole project, something that fascinated me was her curiosity. And her willingness to push the envelope and just throw out ideas." The resulting work masterfully weaves together the words of Abigail Adams and Sojourner Truth, along with those of anti-suffragists, to paint a full picture of the successes and struggles that have marked the journey toward equal rights for women in the United States.
Guerrero appreciates how contemporary music can speak to issues happening in the world right now, citing Her Story's relevancy to the ongoing national conversation. "It's remarkable that it's only been a hundred years, which is nothing in historic time, since women got the right to vote. Women have fought all over the world, not only in the United States, for basic rights, and for many people this is a daily effort. So, to have a piece that addresses that has the potential to move and inspire, which is the whole point of what music and art is all about."
"To me it is not just about playing music and people listening and going home," he continued. "It has to be deeper. There has to be an emotional connection. And this is something that I'm sure to a lot of people is unique. So, projects like this go well beyond just the concert hall."
STEVEN ZIEGLER is the San Francisco Symphony's Editorial Director.