Trumpet
Micah Wilkinson
Acting Second Trumpet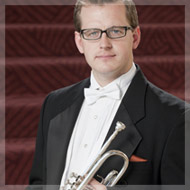 SFS member since: 2011
Hometown: Norcross, GA
Music school(s) you attended: St. Olaf College; Staatliche Hochschule für Musik, Freiberg, Germany; Arizona State University
I began playing music: when I was 5 years old, (trumpet at 11)
I was inspired to become a professional musician by: my high school trumpet teacher, Larry Black
If I were not a professional musician, I might be: a counselor or professor
My favorite composers are: Bartók, Prokofiev, Stravinsky
My favorite works that feature my instrument are: Mahler, Symphony No. 5; Bartók, Concerto for Orchestra; Boehme, sextet for brass; Jolivet, Concertino for trumpet and orchestra
When I'm not working, what I enjoy doing most is: Taking my dog, Barber, to the park; collecting and listening to records; traveling; exploring SF with my wife Stefani
I recently read: The Breaks of the Game, David Halberstam; An Altar in the World, Brown Taylor; The Hunger Games trilogy, Collins; Outliers, Malcom Gladwell
Some of the more interesting music you'll find on my CD player / on my iPod is:
The Dirty Projectors, Paul Simon, Avishai Cohen, Them Crooked Vultures

Favorite things to do in the Bay Area: Stefani and I love food and drink, so we get excited about discovering new restaurants, wine bars, pubs, and coffee shops. We also love taking Barber to the dog park at Fort Funston.
Plus: I am thrilled to have the opportunity to perform with this incredible orchestra. The San Francisco Symphony has been my favorite orchestra ever since I began seriously listening to classical recordings, and I feel just as lucky as someone who gets to play for their favorite sports team.