Percussion
Jack van Geem
Principal Percussion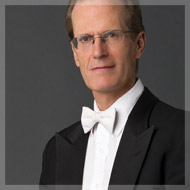 SFS member since: 1981
Hometown: Oakland, CA
Music schools you attended: Cal State University, East Bay
Began playing music: At age 4
If I were not a professional musician, I might be a: Doctor
My favorite composers are: Bach, Bartók, Prokofiev, Piazzolla
When I'm not working, I enjoy: playing music for me; hiking/cycling; wood working; cooking and eating
Recent reading: The Quiet American, by Graham Greene; Traitor to His Class: The Privileged Life and Radical Presidency of Franklin Delano Roosevelt, by H.W. Brands; Shame, by Salman Rushdie; Cleopatra: A Life, by Stacy Schiff
On my CD player/iPod: Thelonious Monk, Astor Piazzolla, [SFS keyboardist] Robin Sutherland's recording of Bach's Goldberg Variations, Ella Fitzgerald

Favorite things to do in the Bay Area: Hiking and cycling are spectacular in the Bay Area—such beauty so close to one's front door.
Plus: My wife and I have been building a house in Mendocino over the past three summers. A spectacularly rewarding enterprise! It has an ample guest suite and we are hoping to lure lots of friends up to visit when it is finished.