First Violin
Dan Nobuhiko Smiley
The Eucalyptus Foundation Second Century Chair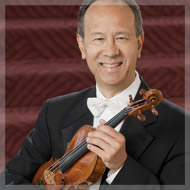 Dan Nobuhiko Smiley
The Eucalyptus Foundation Second Century Chair
Member since 1990
Hometown: Mill Valley, CA
On being in the Orchestra:
A lot of it comes to family—I work with my wife (SFS violinist Suzanne Leon), my sister (SFS violinist Mariko Smiley), my sister-in-law (SFS violinist Kelly Leon-Pearce), and my brother-in-law (SFS violinist Sarn Oliver). It's literally family for me here, and the Orchestra is a very tight-knit community. The audience is also very special—they're so supportive, generous, and enthusiastic, and that makes a difference to the musicians. We feed off the audience and are creating something together, and that's really exciting.
Other interests:
I got very interested in astronomy at a young age, and have since become an amateur astronomer. I've done a lot of observation with my telescopes, and some of my astro-photography has been published in Sky and Telescope and Astronomy magazines.
Favorite composers:
I find that great composers write great second violin lines. Sometimes, the way you treat the second lines can offer real insight into a composer. I often say Haydn is one of my favorites and I would love to play all the Haydn symphonies. Every time we do a new Haydn symphony, it's always a blast. In 2007, we played Symphony No. 67 with conductor Leonard Slatkin, and it was very charming—[SFS Concertmaster] Alexander Barantschik and I played the solos and afterwards Slatkin gave us each a dollar bill! Haydn's music has such humor, and it was so appropriate. Mahler is also wonderful. You can really sink your teeth into his works, and we've done a lot of fantastic Mahler here.