Bass
Larry Epstein
Associate Principal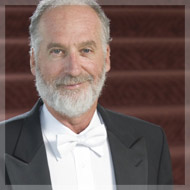 Larry Epstein
Associate Principal Bass
Member since 1975
Hometown: Miami, FL
Musical influences:
My father, a bassist who's done it all in the music business, certainly influenced my basic approach to bass playing. Also, three summers of study and performance early on at Tanglewood (then called the Berkshire Music Center) showed me how energizing and challenging a career in orchestral music could be.
On playing in an orchestra:
There is a certain alchemy to making music, and when all the ingredients are just right, the performance can really soar. While each one of us in the Orchestra controls only the sound of our own instrument, a good performance rests on how well we listen and react to each other. And, as a touchstone for the collective energy onstage, the conductor gives structural and emotional shape to the music with gestures that hopefully make playing as a unified ensemble easy. It's endlessly fascinating to see how differently conductors approach their task.
Interests:
I am an avid bicyclist and I also enjoy jamming with musicians at my neighborhood blues bar, Skip's Tavern. My first CD, released in 2006 and available at www.larryepsteinbass.com and at the Symphony Store, also features some of the top Bay Area jazz musicians interpreting seven of my own tunes.