Membership
MID-PENINSULA LEAGUE
ABOUT THE MID-PENINSULA LEAGUE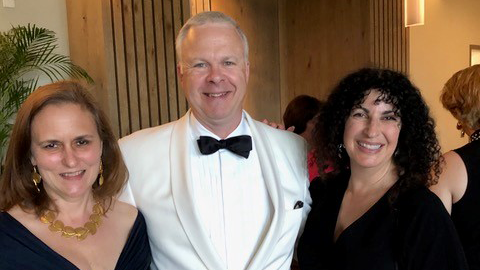 The Mid‐Peninsula League of the San Francisco Symphony was founded in 1973, the same year that the Volunteer Council was established. The League's mission is to support the Symphony and its education and community programs, promote audience development, and provide a social community for Peninsula residents interested in classical music.
The League's longstanding community focus is on music education provided through the Symphony's Concerts for Kids program, which introduces young children to classical music. Each year, a group of League members trains as docents to prepare students from the Ravenswood School District of East Palo Alto and Eastern Menlo Park to attend these specially curated concerts. Called the Ravenswood Project, League docents teach hundreds of local third graders annually about classical music and orchestral instruments, then chaperone them at a Concerts for Kids performance at Davies Symphony Hall. For many of the children, this is their first live orchestral concert experience. The League also fundraises to provide these students with concert tickets and transportation to Davies Symphony Hall.
Throughout the year, League members enjoy a variety of social and musical events, music‐oriented lectures and trips, and SF Symphony concerts. General meetings are typically held the last Monday of the month in the late morning, and business meetings are followed by a musical performance or a presentation by a Symphony representative. Additional evening events take place throughout the year. Since 2000, the League has produced a Music Study Program which has featured an array of experts in music history and theory. During the COVID‐19 pandemic, the League presented this program as a virtual speaker series, enabling subscribers to stream lectures from speakers across the country. This summer, the Mid‐Peninsula League is excited to sponsor the San Francisco Symphony's July 8 summer concert at Stanford University's Frost Amphitheater.
The Mid‐Peninsula League's annual fundraiser, Symphony in Flowers, raises funds for the San Francisco Symphony's education and community programs, as well as for the League's signature Ravenswood Project. This year, Symphony in Flowers was held on May 1 at the Rosewood Sand Hill Hotel in Menlo Park. The event featured an elegant dinner, silent auction, and a musical performance that included SF Symphony Principal Bass Scott Pingel and Principal Timpani Ed Stephan.


For more information about the Mid-Peninsula League of the San Francisco Symphony,
please contact League President Sara Richter at [email protected]
For current members, to renew your membership for the 2023-24 Season please select your membership level below.
Active Members are eligible for Associate Membership after five years. Thank you for joining the Mid-Peninsula League
and supporting the organization through your membership.
To make a donation to the Mid-Peninsula League, please call Tunisha Williams at 415-503-5351


Mid-Peninsula League Active Member ($110):
Mid-Peninsula League Associate Member ($135):