the San Francisco Symphony Chorus San Francisco Symphony Chorus, Ragnar Bohlin, director
The San Francisco Symphony Chorus was established in 1973 at the request of Seiji Ozawa, then the Symphony's Music Director; the San Francisco Symphony Chorus, numbering thirty-two professional and more than 120 volunteer members, performs more than twenty-six concerts each season. Louis Magor served as the Chorus's director during its first decade. In 1982 Margaret Hillis assumed the ensemble's leadership, and the following year Vance George was named Chorus Director, serving through 2005-06. Ragnar Bohlin assumed the position of Chorus Director in March 2007. The Chorus can be heard on many acclaimed recordings, including Beethoven's Symphony No. 9 and Mahler's Symphonies Nos. 2, 3, and 8 (with Michael Tilson Thomas conducting), choral works of Brahms, Mahler's Das klagende Lied, Stravinsky's Perséphone, selections from Berlioz's Lélio, and John Adams's Harmonium. The ensemble has received Grammy awards for Best Performance of a Choral Work (for Orff 's Carmina burana, Brahms's German Requiem, and Mahler's Symphony No. 8) and Best Classical Album (for a collection of Stravinsky's music including Perséphone, The Firebird, and Le Sacre du printemps; and for Mahler's Symphony No. 3 and Symphony No. 8).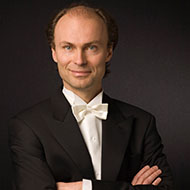 Ragnar Bohlin began his tenure as Chorus Director of the San Francisco Symphony in 2007. Mr. Bohlin served as choirmaster of Stockholm's Maria Magdalena Church and holds degrees from the Royal Academy of Music in Stockholm. He studied conducting with Eric Ericson and Jorma Panula, piano with Peter Feuchtwanger in London, singing with Nicolai Gedda, and through a Sweden-America Foundation scholarship he visited choruses throughout the US. With Stockholm's KFUM Chamber Choir, the Maria Magdalena Motet Choir, and the Maria Vocal Ensemble, Mr. Bohlin has won numerous prizes in international competitions. Currently teaching at the San Francisco Conservatory of Music, he has also taught at the Royal Academy in Stockholm and been a visiting professor at Indiana University and Miami University. Mr. Bohlin's guest conducting engagements have included appearances with the São Paulo Symphony in Brazil, Malmö Symphony in Sweden, Stavanger Symphony in Norway, the Edmonton Symphony in Canada, and the Ericson Chamber Choir in Mozart's C minor Mass. In 2018 he leads the BBC Singers and Swedish Radio Choir. Mr. Bohlin is the founding Artistic Director of the professional chamber choir Cappella SF; the group has released three recordings on the Delos label. In 2013, he was awarded the Cultural Achievement Award from the Swedish-America Chamber of Commerce in San Francisco. He recently received Chorus America's Michael Korn Founders Award.
(April 2018)