ARTICLES &
INTERVIEWS
These Symphony-commissioned feature articles offer insights into the music you'll hear in the concert hall.
Jun 1, 2022
A New Era: Stravinsky's The Soldier's Tale
BY STEVEN ZIEGLER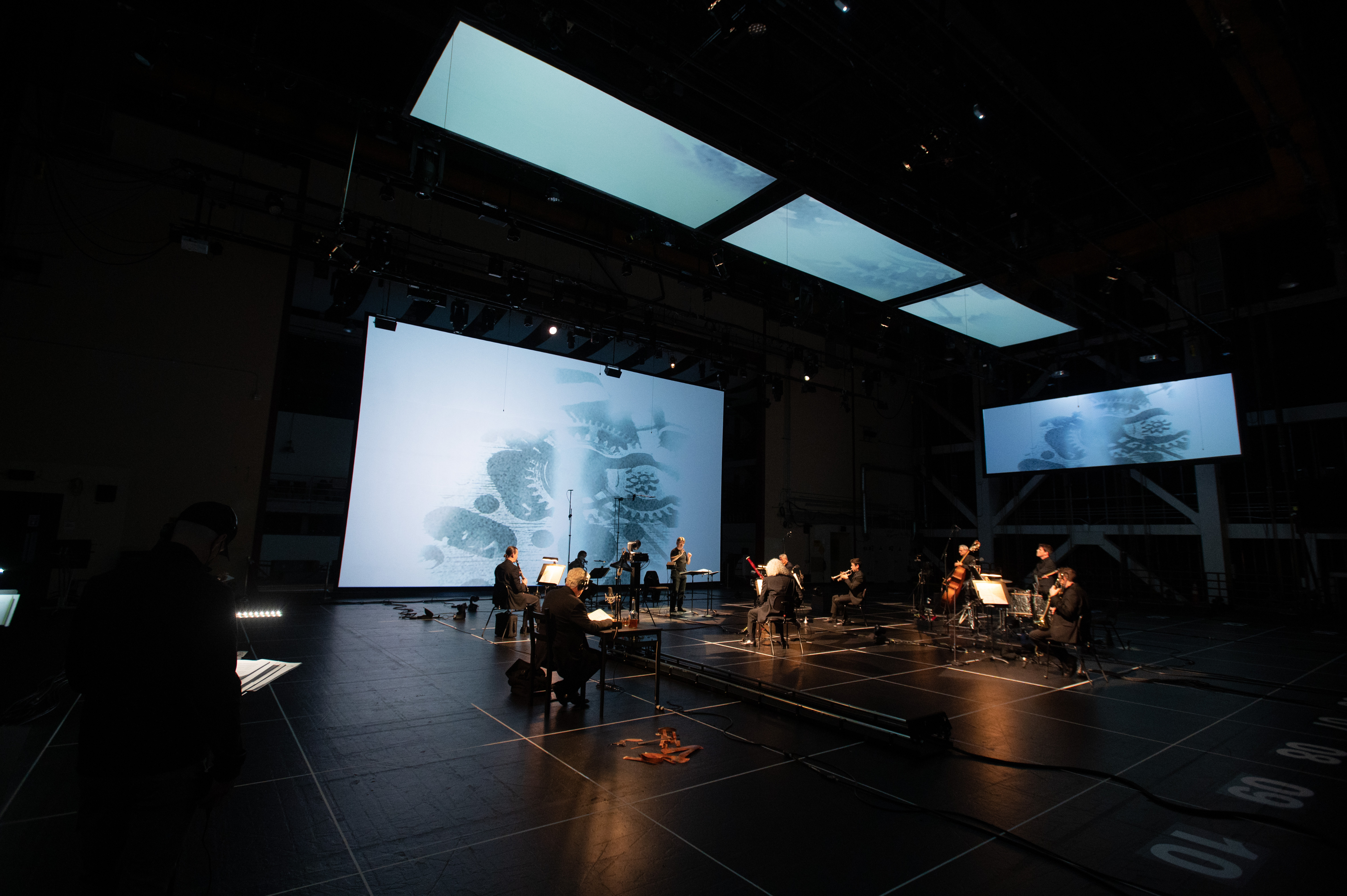 On the set of The Soldier's Tale. Photo: Kristin Loken.
Igor Stravinsky knew what it was like to have plans scuttled by a pandemic. In 1918, as Europe was emerging from World War I, Stravinsky hatched an idea to create a small-scale, touring theatrical piece about a soldier's encounters with the devil. It didn't happen, as theaters abruptly shut down due to the sweeping influenza epidemic.

Esa-Pekka Salonen insists his decision to mount Stravinsky's The Soldier's Tale, which receives a new digital production directed by Netia Jones and launching this month on SFSymphony+, was purely coincidental. "I've always wanted to do a proper studio production of Soldier's Tale, because it's one of my favorite pieces and deserves a very well-thought-out, detailed production," Salonen says. "Between the fact that it represents a new era in composition—and in the arts more generally—coupled with the influenza pandemic, which was a big factor in driving all these changes, you cannot help but to draw parallels between that and our time. A hundred years earlier, Stravinsky was going through the same experiences in his life as we are now in our lives, and that's almost spooky."

For those accustomed to the opulence of Stravinsky's early ballets such as The Firebird and The Rite of Spring, the starkness of The Soldier's Tale, which calls for an ensemble of seven musicians, a dancer, and three spoken roles (here singularly embodied by the virtuosic actor Bruce Davison) can come as a shock to the system. The darkly comic story, after a tale by Alexander Afanasiev, sees a young soldier strike a deal with the devil, swapping his fiddle for a magic book that brings him riches. Through a series of gambits, the soldier manages to retrieve his fiddle and stall his fate but, as we might expect, the devil has the final word. Salonen observes that the piece represents a "complete change of paradigm" following the horrors of World War I and the influenza pandemic.

In our own era, the restrictions of creating art during a pandemic have led to fascinating artistic discoveries born out of necessity, such as the San Francisco Symphony's digital SoundBox programs, Collaborative Partner Nico Muhly's Throughline, and the recent AI-driven LIGETI: PARADIGMS. Director Netia Jones, whose boundary-pushing video and theatrical work has been seen at the Los Angeles Philharmonic, English National Opera, Aldeburgh Festival, Santa Fe Opera, and others, elaborated on this idea. "What I think we've begun to realize during the pandemic is that digital presentations can be very varied. The idea of doing The Soldier's Tale as a digital presentation is really exciting because it has an inherent simplicity, but it also lends itself very, very well to a multi-layered treatment."

In this production, Jones envisions The Soldier's Tale as a sort of black box theater production, enhanced by video projections that propel the storytelling. The presence of dancer and choreographer Adji Cissoko, an Alonzo King LINES Ballet company member who has previously collaborated on SF Symphony productions, adds an aura of mystery to Jones's video projections. Salonen also observes that the unique musical roles inhabited by the seven solo musicians—a jazz-inspired chamber ensemble comprising clarinet, bassoon, trumpet, trombone, violin, double bass, and percussion—makes them equal players in the drama.

Jones was determined to maintain the stripped-down origins of the piece, while fully leaning into the possibilities of combining theatrical and video elements. "Normally, my work is experienced live and so you'll be involved in the digital media, but in a live atmosphere. And here I wanted to keep that feeling and so we really recorded it as if it were a live piece of theater and I was keen that we didn't do too many takes so that it has a kind of freshness, a rawness."

In addition to its pandemic-influenced intimacy, Stravinsky's piece also raises philosophical questions that Salonen and Jones hope will resonate with contemporary audiences. "As a piece of theater, it's intriguing. It doesn't give itself away," Jones says. "It asks, perhaps, more questions than it answers and I like that very much. I think that's a nice place for us to be at this moment in time, where self-reflection is critical. This is one of the pieces that really enables that, and in a way, insists."
While The Soldier's Tale reflects its broken world through macabre irony, Salonen hopes that by addressing its darkness we will ultimately emerge on the other side in a better place. "All great art is hopeful because it's the implicit statement that it makes. It's here to last, to stay with us for centuries."
Watch the complete production of The Soldier's Tale, along with a behind-the-scenes video featuring the creators and performers, free at SFSymphonyPlus.org
STEVEN ZIEGLER is Editorial Director at the San Francisco Symphony.