Articles &
Interviews
These Symphony-commissioned feature articles offer insights into the music you'll hear in the concert hall. We hope you'll find them provocative and entertaining.
Sep 7, 2017
The Best of All Possible Worlds: MTT and the SFS Celebrate Leonard Bernstein at 100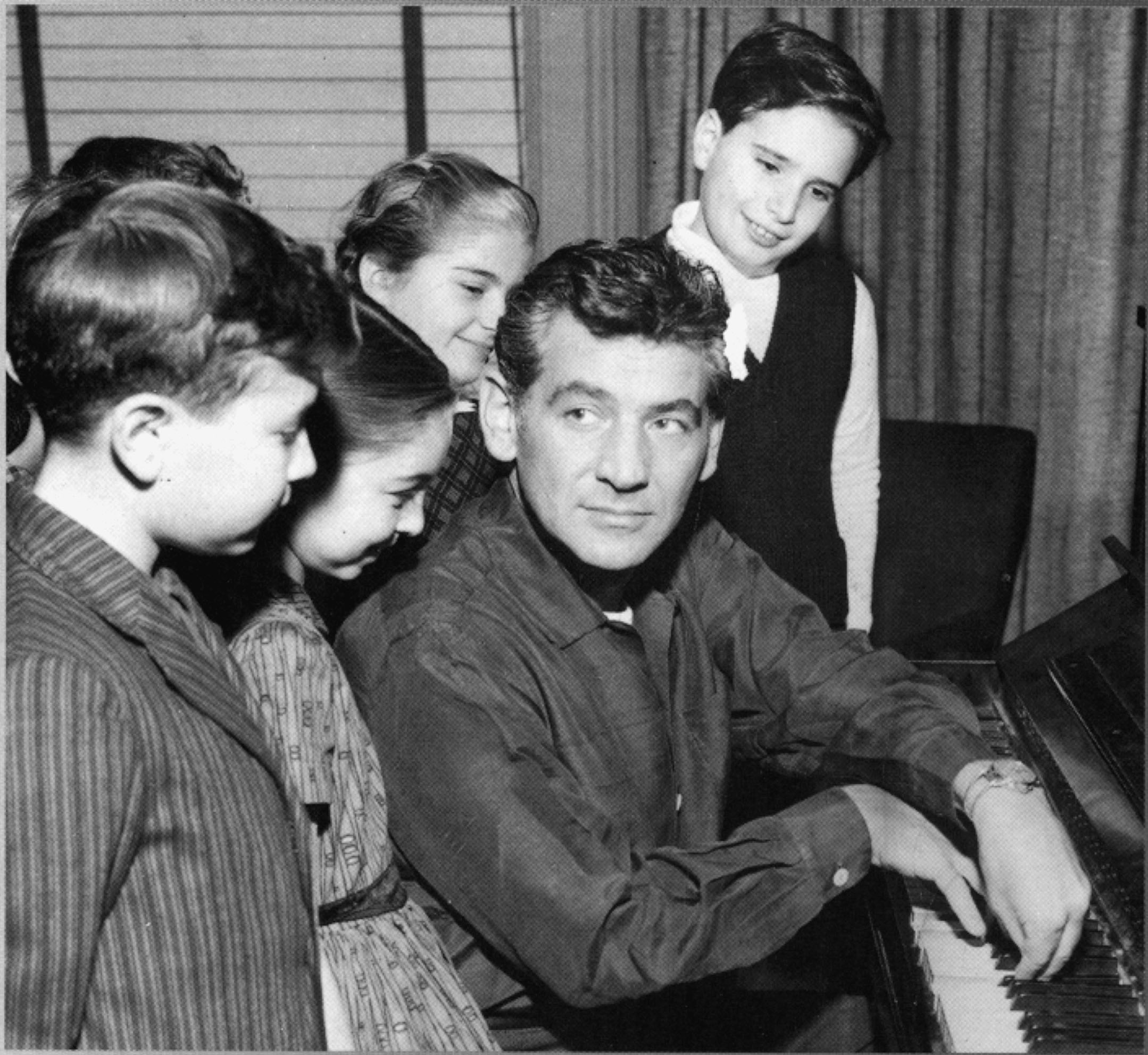 Leonard Bernstein, the educator
"Leonard Bernstein created a tradition in American music of which we are all a part—whether we know it or not. Almost everyone alive today has been influenced in some way by his music." —Michael Tilson Thomas
In a 1960 episode of his celebrated Young People's Concerts, Leonard Bernstein (1918-90) took as his subject the then semi-obscure Gustav Mahler. It was a big challenge for Mahler, the host told his "dear young friends" in Carnegie Hall and millions more watching at home on television, to balance his work as both a conductor and composer. "I have the same problem myself," confided Bernstein. Like Mahler, he was "two different men locked up in the same body."
"Two" was an understatement in the case of Bernstein, whose scintillating musical gifts and expansive personality contained multitudes. A conductor of international renown and flamboyant élan, he reinvigorated the New York Philharmonic in his 1958-69 tenure as music director, spearheaded the revival of Mahler as a major symphonist, and left his incomparable mark on podiums from the Vienna Opera House and La Scala—he was the first American to conduct there—to Tanglewood and Tokyo. From his early and arresting Symphony No. 1, Jeremiah, and feverish Age of Anxiety, Symphony No. 2, to the ebullient scores for Candide and On the Town and an epochal one for West Side Story, Bernstein flourished as a composer in strikingly diverse musical styles. A fine pianist who frequently conducted from the keyboard, author of five books, a natural educator, public intellectual, socially conscious advocate, and sometimes unwitting provocateur, Lenny, as he was widely and affectionately known, was arguably the most famous and broadly influential figure in the history of American music.
While no single enterprise can compass Bernstein's multi-faceted career, the San Francisco Symphony's substantial 2017-18 programming includes full-length performances of Candide in concert (January 18-21) and the West Side Story film (February 1-3) along with the Age of Anxiety (November 2-3, 5), the Chichester Psalms, and relative rarities like Arias and Barcarolles (the latter two on an all-Bernstein September 22-24 bill).
"I think Bernstein's music, his best music, has a kind of achy hopefulness about it," says Music Director Michael Tilson Thomas, whose long and abiding friendship with his older colleague reflected their many affinities. MTT has a particular fondness for the 1988 Arias and Barcarolles, a late work for two singers and chamber orchestra.
The piece has an improbable White House backstory. Following a 1960 performance of Bernstein music, President Dwight Eisenhower told the composer he especially liked one piece that had a "theme. I like music with a theme," he explained, "not all those arias and barcarolles." Bernstein filed that notion away, revisiting it many years later in a suite with pieces MTT describes as by turns "amusing, ironic, sentimental, and quite savage." It is in sum, Tilson Thomas adds, "the best portrait of what Bernstein was like in his last years."
The instinct of Bernstein to pivot from one mood, style, musical form, and activity to another cemented his reputation—for better or worse. In his near messianic drive to share his own passionate connection to music, he powered from composing to conducting to teaching and writing in a propulsive torrent. It all created a manically active life and a jet stream of influence impossible to measure. "Even if you never met him or saw him," MTT says, "his music tells you how life tasted to him, and that's what he really wanted. There was never any question of what he believed, what he championed. It was the joy of music. He lived it." There is no doubt that Bernstein's legacy remains in full flower more than a quarter century after his death.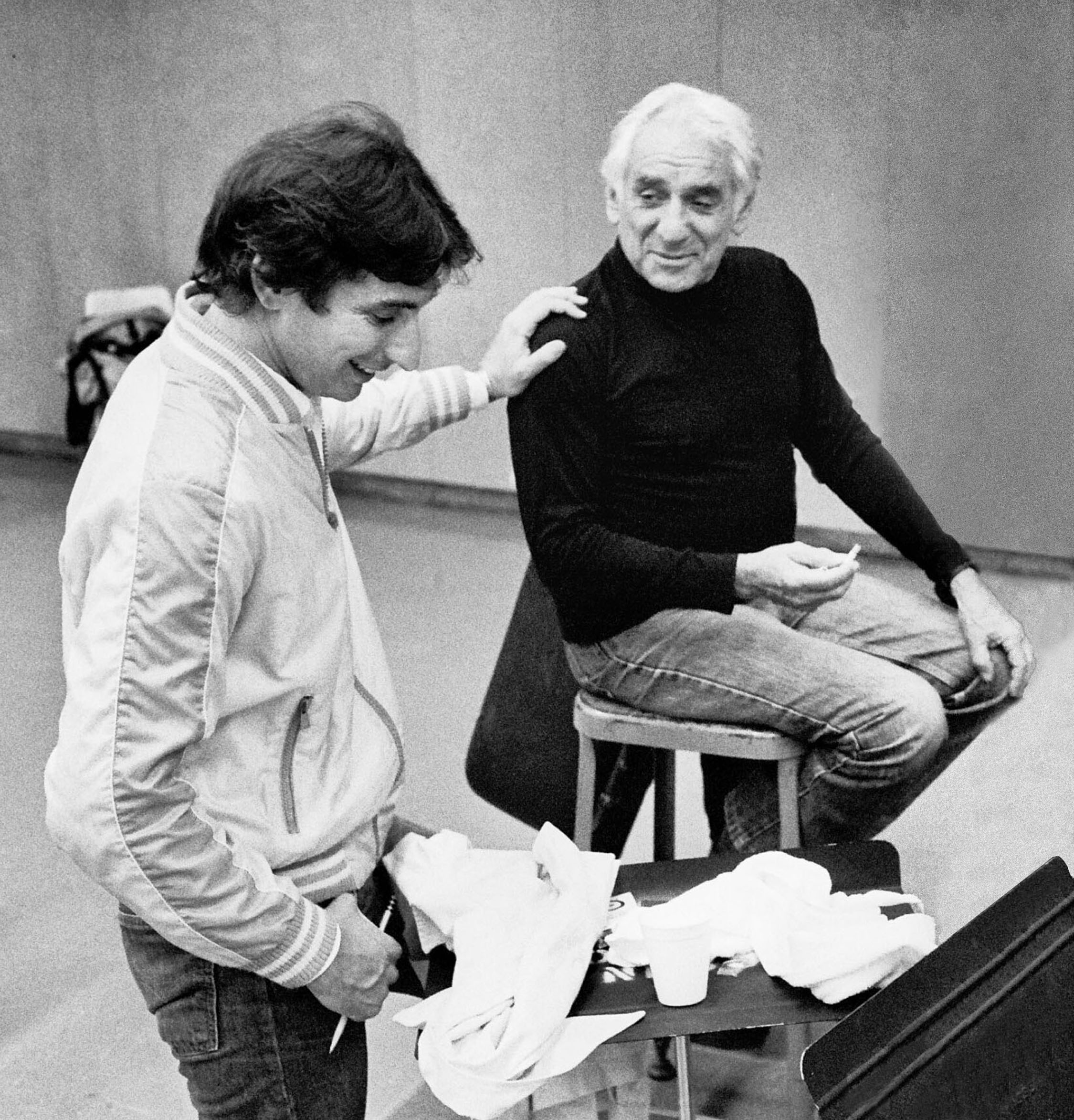 Michael Tilson Thomas and Leonard Bernstein, 1983 © Robert Millard
It was also the very profusion of Bernstein's talents that complicated his reputation. To Pulitzer prize-winning American composer Ned Rorem, Bernstein was a "jack of all trades." Stravinsky's remark that Lenny was like "a musical department store" carried a mixed message about the fast-changing variety of Bernstein's pursuits. Bernstein himself, who had a penchant for living out his inner turmoil in public fashion, fretted openly that he had spread himself too thin and squandered his gifts as a composer. He feared that West Side Story would be the sole pillar of his compositional legacy.
Whatever posterity has to say about Bernstein's music, his life and career became a transforming force like no other. Born and raised in Lawrence, Massachusetts, where his father bristled at three-dollar-an-hour piano lessons, Bernstein began composing and befriended Aaron Copland as a Harvard undergraduate. He later studied conducting under Fritz Reiner at Philadelphia's Curtis Institute of Music. His first big break came in November of 1943, when, as the newly appointed assistant conductor, he subbed for an ailing Bruno Walter at the last minute and conducted a nationally broadcast and widely heralded performance by the New York Philharmonic. "An American success story," as The New York Times declared on its front page, was born.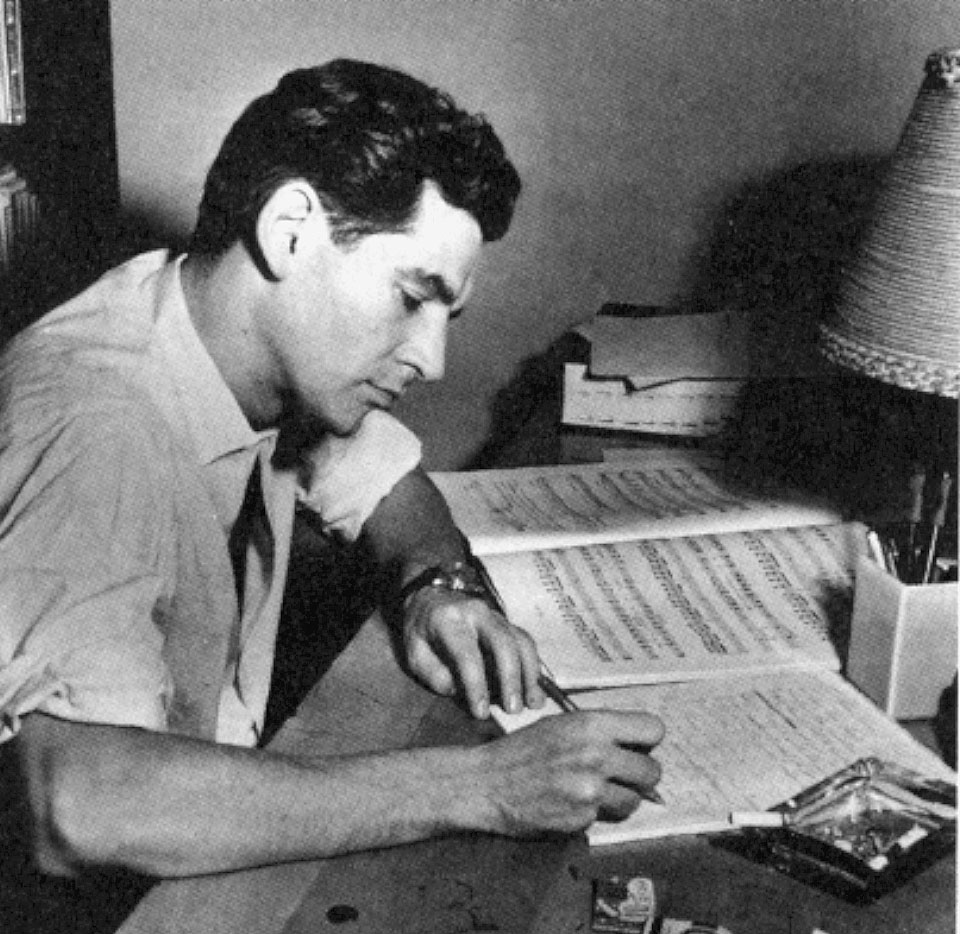 Bernstein composing, ca. 1947
There was always a dramatic scope, an amplitude, an almost-too-muchness about Bernstein. It registered in his wildly eclectic MASS (1971), a 1970 Black Panther Party defense fundraiser at his and his wife Felicia's apartment that become the emblem of "radical chic" in Tom Wolfe's famous essay, and the sometimes chaotic churn of his personal life.
Bernstein's flair for finding and holding the spotlight was an inevitable byproduct of his fame. But the attention he garnered had a way of translating into lasting effects. Bernstein's high-profile term as the New York Philharmonic music director helped break the European stranglehold on American orchestra podiums and paved the way for many conductors from here and elsewhere around the globe. His televised Young People's Concerts and adult-oriented Omnibus programs, models of clarity without condescension, were a touchstone for Michael Tilson Thomas to build on in his own estimable Keeping Score series with the San Francisco Symphony.
Even some of Bernstein's controversial music choices, like a magisterially slow Brahms Piano Concerto No. 1 he led with Glenn Gould as soloist in 1962, stirred the kind of debate about a composer's intentions and the performers' interpretative license that make classical music feel urgent and current.
Leonard Bernstein on stage with the New York Philharmonic, May 1961.
"A hunger for experience in all its aspects and a need to share were essential to his nature," writes the composer Allen Shawn in Leonard Bernstein: An American Musician. Beneath "the extraordinary hubbub of his life," Shawn goes on, "was the still vivid sense of wonder at the sounds he had discovered long ago" in the music he heard as a child, "when the universe suddenly made sense to him." Today, we can all be thankful to Bernstein for helping make sense of the universe for us. MTT recalls Lenny's "real inspiration came from more spontaneous things. He would just duck under the awning of a local drugstore in the midst of a rainstorm and scribble something down that became an absolutely all-time favorite song, one with an enduring message that expressed people's love of life and their wonder in how it all can come to be."
— Steven Winn