Articles &
Interviews
These Symphony-commissioned feature articles offer insights into the music you'll hear in the concert hall. We hope you'll find them provocative and entertaining.
Sep 23, 2015
Talking with Composer Ted Hearne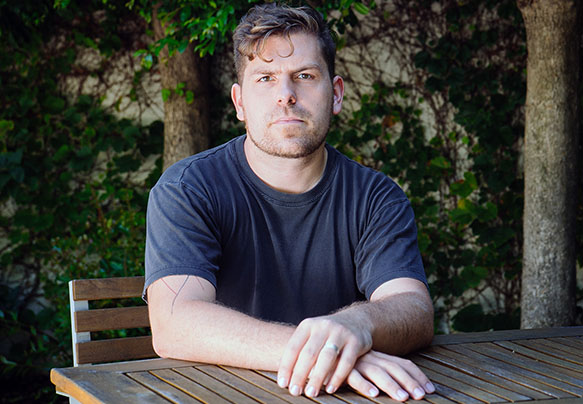 Photo: Nathan Lee Bush
On September 30 and October 1-3, 2015 the San Francisco Symphony presents the West Coast premiere of Ted Hearne's Dispatches. Hearne is the latest composer in the New Voices program, an initiative created by the SFS, MTT's New World Symphony, and the music publisher Boosey & Hawkes.
What was your first experience with the San Francisco Symphony?
MTT's recording with the Symphony of The Rite of Spring is incredible. I listened to it on average of once a day during my first or second year of music school. The Symphony played my piece Law of Mosaics on the SoundBox series, and our first rehearsal for that concert was really special for me, partly because I kept remembering how much I had been shaped by that Rite recording. The SFS has such a sharply honed and unique sound, totally present from the first rehearsal. I'm super excited and honored to work with the group again.
What have you been able to take away from your experiences as a New Voices composer so far?
The New Voices program is so supportive and such a positive thing for the creation of new orchestral works in America, I can only hope it's a) continued and spread to composers with all different aesthetic approaches, and b) copied by other orchestras across the country. I feel lucky to have been included in the program.
In this concert, Dispatches is paired with works by Tchaikovsky and Barber. Do you have any connection with these composers? What are some of your other musical influences as a composer and a musician?
Barber's vocal music was important for me in high school, actually. My mom is an opera singer and I remember she sang the Hermit Songs at a recital when I was in middle school and it had a big impact on me, made me want to be a composer. I don't think about his music very much anymore, but Knoxville: Summer of 1915 is so beautiful and probably my favorite of his pieces, so I'm pleased to be on the same program as that work.
What specific challenges are there in writing for orchestra (as opposed to chamber or vocal ensembles)? What do you enjoy about writing for orchestra?
There are so many challenges in writing for orchestra! It's so difficult to even get one in a room to try things out, so for me the learning process seems to be unfolding at a glacial pace that may last my entire life. The aspect I find most challenging, though, is that nearly all the music I listen to and am inspired by is produced as a recorded work, yet an orchestral performance is necessarily acoustic, performed in live time, by a massive amount of people all playing at once. (This is also the biggest reason I'm drawn to write for orchestras in the first place—the powerful communal experience that's possible.)
How can composers harness the incredible control of sound exercised by the best producers using the best recording technology and transfer that sensibility to an ensemble of live classical musicians? How can that ensemble, formed to communicate musical ideas to listeners from the nineteenth-century, speak meaningfully to today's listeners? Can there be engaging, exploratory, non-pandering ways for the sonic and artistic advancements from non-orchestral and non-classical worlds to be integrated into new orchestral work? And if not, does it make sense for there even to be orchestral work? These are the biggest challenges I have writing for orchestra, and incidentally these are also the issues I'm hoping to explore with the musical material in Dispatches.
You've frequently used electronic components in your music. How does your experience with this translate into writing for orchestra?
This is something I'm still working out. The more I use digital production software like Ableton Live and Logic as a compositional tool, the more I see my habits in that realm spread to my acoustic music. A lot of the formal devices in Dispatches, for instance, come directly from the ways in which digital samples can be manipulated.
Some of your works have taken on some interesting (and topical) subjects such as Hurricane Katrina and WikiLeaks. How does what's going on today influence the direction of your music?
Music just like any art is a reflection of the time and place from which it came, right? I'm interested in exploring the way that reflection is made, in a critical way, and how that reflection can be used as a tool for communication.
What do you like about San Francisco the city? What do you like to do here?
I lived in San Francisco for a few cold summer months in 2007 and have loved the city ever since. My needs are simple: I like to eat and drink and walk around. SF is perfect for that. Also, Ocean Beach has a special place in my heart.
For more on Ted Hearne and his music, visit tedhearne.com. For more on Dispatches, visit the SFS YouTube channel.