Articles &
Interviews
These Symphony-commissioned feature articles offer insights into the music you'll hear in the concert hall. We hope you'll find them provocative and entertaining.
Sep 13, 2016
Design. Fashion. Architecture.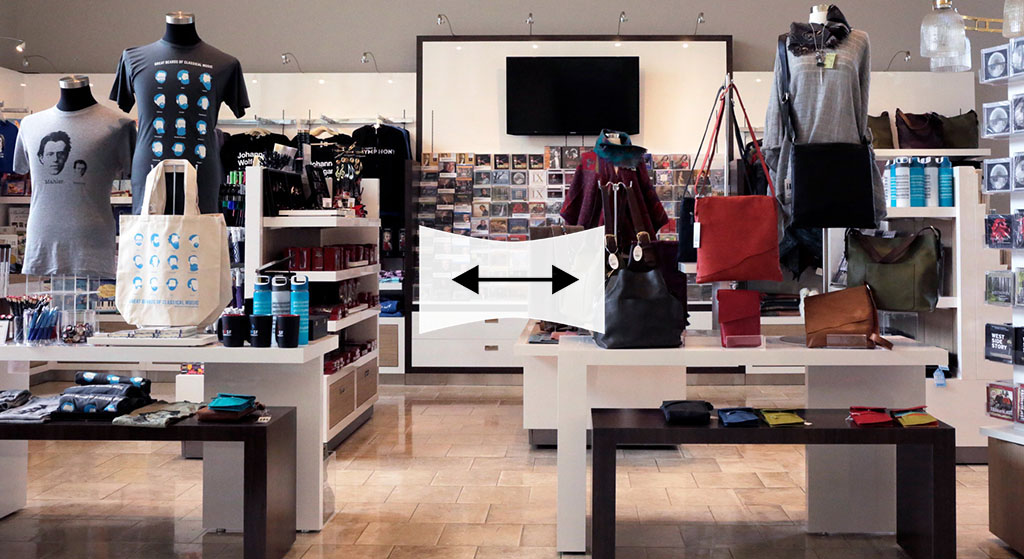 Click to take a virtual tour of the new Symphony Store.
The San Francisco Symphony is all about presenting world-class musical performances, but the attention to detail doesn't end when the concert is over.
When you walk through Davies Symphony Hall you're struck by the enormous windows, the dazzling view of City Hall, and now, you won't be able to miss the new Symphony Store.
In October 2015, the San Francisco Symphony began a collaborative relationship with the Fashion Institute of Design and Merchandising (FIDM). No, the musicians won't be modeling the newest designs from the runways.
Instead, students studying Visual Communications and Merchandise Marketing at FIDM were called to help redesign the Symphony Store as a final project before graduating.
The students looked at the main challenges within the current store design and came up with three new options. Without being able to change the location of the store, nor the size, this became an exercise in resourcefulness and creativity.
As expected, the students did not disappoint, and the final design incorporates elements from each final project.
The new store is more open, more accessible, and a testament to the importance of collaboration with, and investment in, young artists. It showcases a vast array of new items, from beautifully crafted leather accessories to clever gift items like "Water Music" glass bottles and new musically-inspired t-shirts and hoodies.
The next time you're in Davies Symphony hall, look around and you'll see every inch is carefully curated to delight the senses. Music reverberates throughout the hall, sunlight streams in, and the Symphony Store proudly displays the architectural and design talents of the students of FIDM.
RELATED CONTENT: