Articles &
Interviews
These Symphony-commissioned feature articles offer insights into the music you'll hear in the concert hall. We hope you'll find them provocative and entertaining.
Jun 1, 2017
Sharing Music with the World: SFS Media Celebrates 15 Years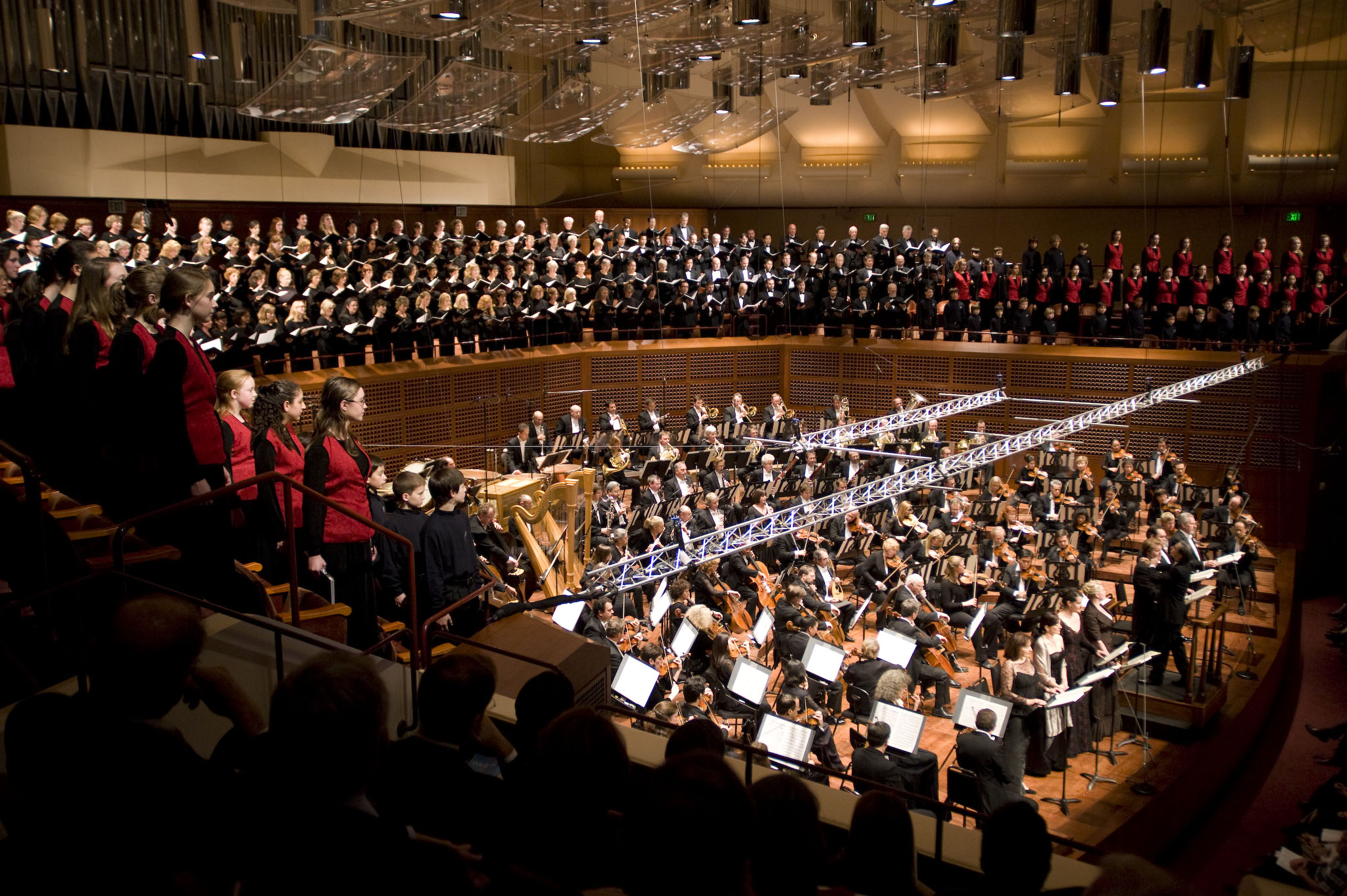 Performing and recording Mahler's Symphony No. 8 in 2008.
Long before San Francisco Symphony violist Matthew Young became a member of the Orchestra, he had already made a special connection with the SFS. "As I was growing up in rural Kentucky, driving tractors on my family's farm, I was exposed to the San Francisco Symphony's Mahler recordings through National Public Radio. That music was such a powerful window to the world for me, and was what first introduced me to this amazing group of highly trained musicians I am now a part of."
Such is the power of great recordings.
Since the 1920s, major US orchestras had relied on the recording industry to connect with listeners, to document their performances, and to bolster their prestige. But by the late 1990s, the industry's affection for orchestras cooled. Media conglomerates became increasingly risk-averse, and any orchestra refusing to accept this new reality would have to create its own label: produce, market, and distribute its recordings. In 2002, after a successful string of recordings on BMG, the San Francisco Symphony took that bold step and released their first album on their own label. As the millennium turned, SFS Media was born.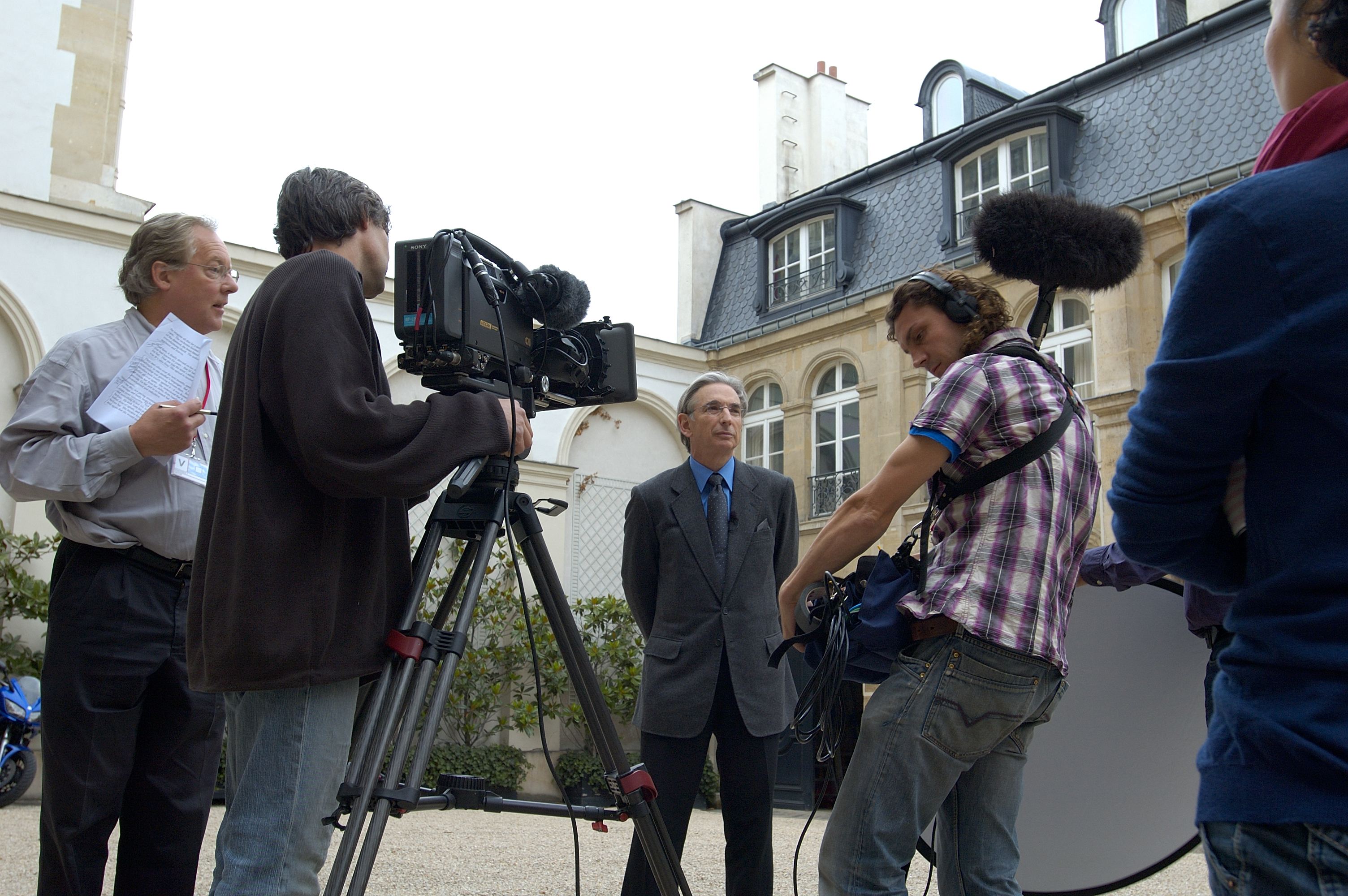 Michael Tilson Thomas on location in Paris during the taping of a "Keeping Score" episode on Berlioz's "Symphonie fantastique."
"At the time," recalls Oliver Theil, the Symphony's Director of Communications and head of SFS Media, "MTT and the orchestra were performing at such a high level, it became clear that we needed to leave a lasting legacy of what was happening on stage. Creating our own label was about having control over what we record, control over formats, marketing and distribution, and owning the copyright. It was about showing audiences around the world the strengths of the artistic partnership we all saw day in and day out on the Davies Symphony Hall stage. And at that time, it was about Mahler."
INVENTING A BRAND
Through many conversations, decisions, leaps of faith, and finally with the support of San Francisco composer, longtime SFS Board member, and philanthropist Gordon Getty, the venture began. John Kieser, at that time the Symphony's Director of Operations, assumed the role of heading up the new label and became its executive producer. "As part of my due diligence," he says, "I floated the idea to a number of people in the business. They predicted disaster." Other orchestras had ventured into production and failed. "Everybody said, 'Mahler? Are you nuts? There are so many great Mahler recordings out there!'" But MTT believed in leading from strength. He and the orchestra had proven themselves formidable Mahler interpreters. And while commercial labels inclined toward production standards that offered little out of the ordinary, SFS Media would go high-end. "We would produce the coffee-table book version of the Mahler symphonies," Kieser says. Excellence of performance would be matched by product. To ensure state-of-the art audio, all SFS Media discs would utilize the latest recording technology.
In September 2001, microphones hung above the Davies Symphony Hall stage and recording consoles were manned. Adding to the excitement, all performances would be captured in concert. "We find live recordings a much more satisfying experience," says Michael Tilson Thomas, "because we really are making music for people, there's that sense of urgency of communicating with the audience." The audience, he said, "inspires us to give everything." The Mahler cycle would launch with the composer's most anguished symphony, the Sixth, sometimes called the Tragic. The first performance was scheduled for September 12, 2001.
Mahler believed art could shape and reflect history. Even he might have been stunned by the confluence of the Symphony's programming and world events. When MTT gave the downbeat the evening after 9/11, the grim treads of the opening march sounded an unsettling in memoriam. For those on stage and in the audience, the music helped focus thoughts and feelings.
The power and emotion of these concerts came through in a recording that went on to win the Grammy for Best Orchestral Performance, the first time an initial label release was so honored. To date, more than 30,000 copies have been sold. The complete Mahler cycle, recorded over the next nine years, would go on to win seven Grammy Awards and was met with overwhelming praise from critics around the world. Joshua Kosman of the San Francisco Chronicle summed up the cycle upon its completion: "The San Francisco Symphony's Mahler project has filled the decade with musical marvels."
THE CAPTURE
Moving a performance from concert hall to finished recording is pure collaboration, based on trust. The producer internalizes the conductor's concept of sound and uses technology to capture it. Especially challenging is a live capture. Jack Vad, audio producer of all SFS Media recordings since 2009, sees his role as understanding and helping bring about what MTT wants to achieve. Their work together meshes science, art, and a chemistry developed out of shared goals and respect. "The quest for perfection is part of the mandate," Vad says, and that is what you hear in the finished product. But everyone concentrates on something bigger. "What we're really there to do is capture a musical idea."
KEEPING SCORE
Democratizing music ranks high among MTT's artistic obsessions. Already in 1999, he urged the Symphony's Board of Governors to support access to music education at every life stage, "not only for the sake of music but also because of what people learn in addition to the music."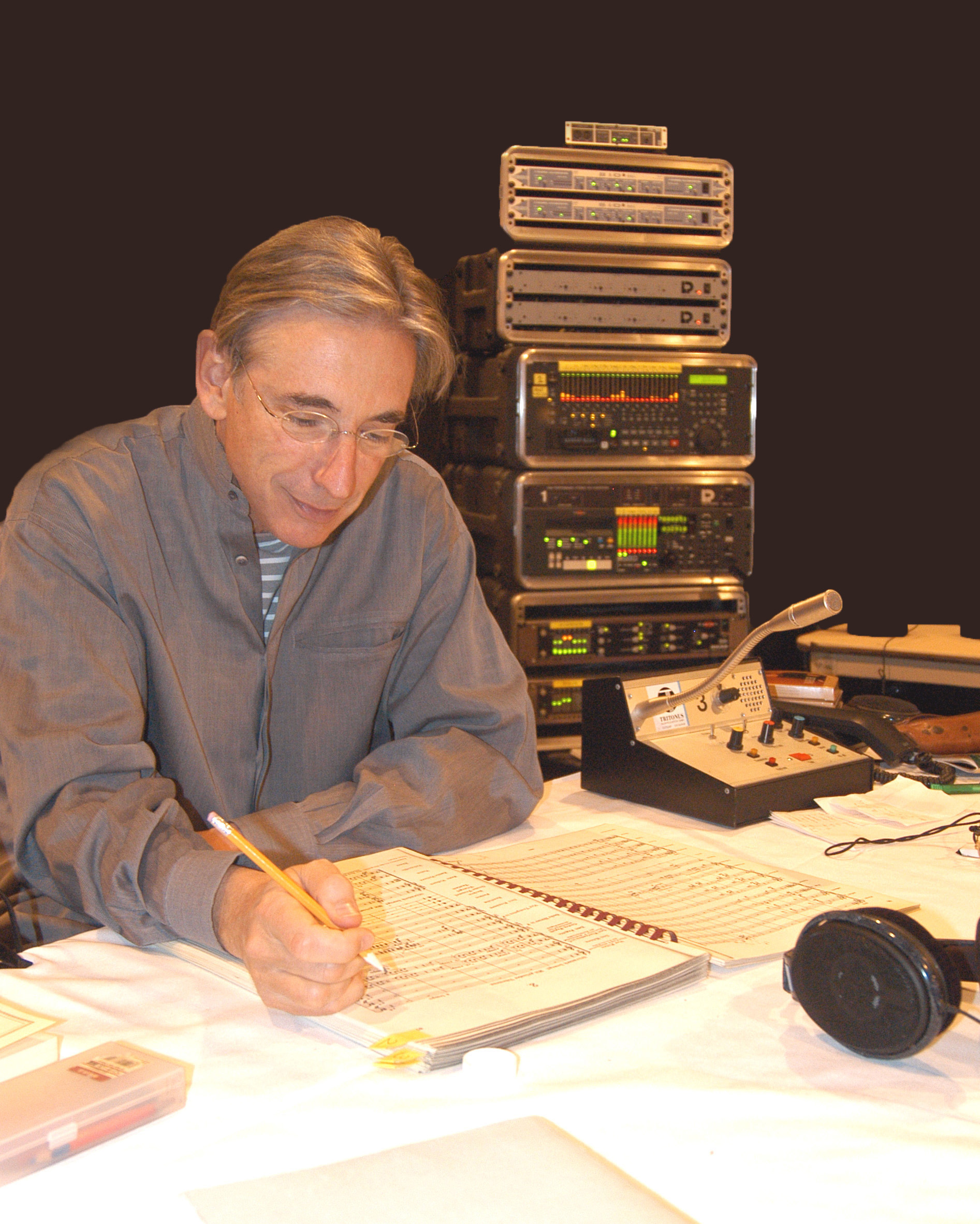 Michael Tilson Thomas during the recording sessions for Mahler's Fifth Symphony, 2005.
MTT, an avid proponent of using technology to shape our connections with music, suggested using public television, public radio, and the internet on music's behalf, and to do it in a way that had never been done before. The result: one of the most ambitious efforts ever undertaken by an American orchestra, SFS Media's Keeping Score project, a ten-year, $24 million project of original content about the world's great composers. The series premiered in 2004 on PBS. Says Ira Hirschfield, President Emeritus of the Evelyn and Walter Haas Jr. Fund, which became lead funder: "I don't think there was another arts organization in the country that could have created something like Keeping Score."
Keeping Score explored territory new to classical music videos, and it capitalized on MTT's genius for connecting with audiences. Each episode unveils a narrative, a story told by MTT, tracing how a composer (whether it be Beethoven or Berlioz, Shostakovich or Mahler) came to write music now part of the basic repertory. Filmed in HD and on location—in places like Vienna, Paris, Moscow—to establish the music's cultural context, these programs are visual feasts. But the subject here is music, and Keeping Score episodes all include full-length performances of the featured compositions. With each story, MTT began by asking himself "Is it possible to do something new here?" With an additional series on public radio, an interactive website, and an education program teaching K–12 teachers around the country to utilize its materials, Keeping Score's impact was measurable. Reaching more than twenty million viewers in its initial airings, the series continues its long life in download and streaming channels.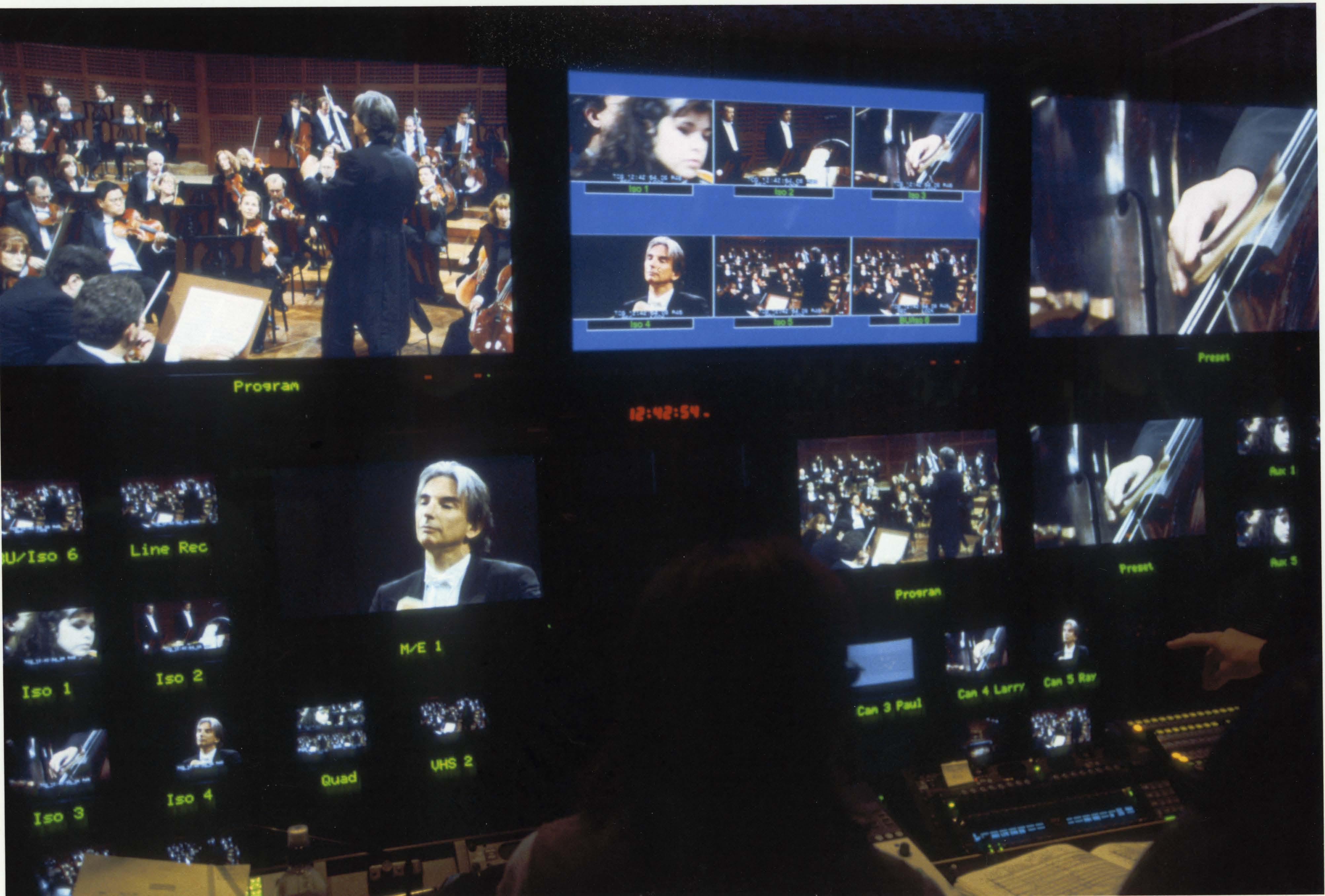 View of monitors in the control truck during the filming of "Keeping Score" series one, episode one, Beethoven's Symphony No.3, "Eroica."
Other SFS Media video productions on the roster include a 2008 Carnegie Hall performance devoted to Leonard Bernstein's music—nominated for a national Emmy—and a 2011 documentary feature on the Symphony's first 100 years—winner of a Northern California Emmy.
LIFE AFTER MAHLER
Today, SFS Media recordings continue to reflect the artistic profile that MTT and the Orchestra have built, a commitment to the core repertory with titles including symphonies of Beethoven and Tchaikovsky and works by groundbreaking maverick composers, with whom MTT and the orchestra are identified: John Adams, Mason Bates, Charles Ives, Lou Harrison. With more than 400,000 discs sold and more than four million streams per year, the SFS Media catalogue continues to bring the Orchestra to audiences around the world.
Another high point came in 2014, with a live recording of Leonard Bernstein's complete score for the musical West Side Story featuring a stellar Broadway cast including Cheyenne Jackson and Alexandra Silber. The SFS became the first orchestra to receive permission from all four West Side Story rights-holders to perform and record the musical score in its entirety in a concert setting. The recording was nominated for a Grammy Award and has become the label's biggest seller ever. This month, SFS Media not only turns fifteen, but also records Berlioz's epic Romeo and Juliet and launches its first digital-only release, Alban Berg's Three Pieces for Orchestra. No resting on its laurels.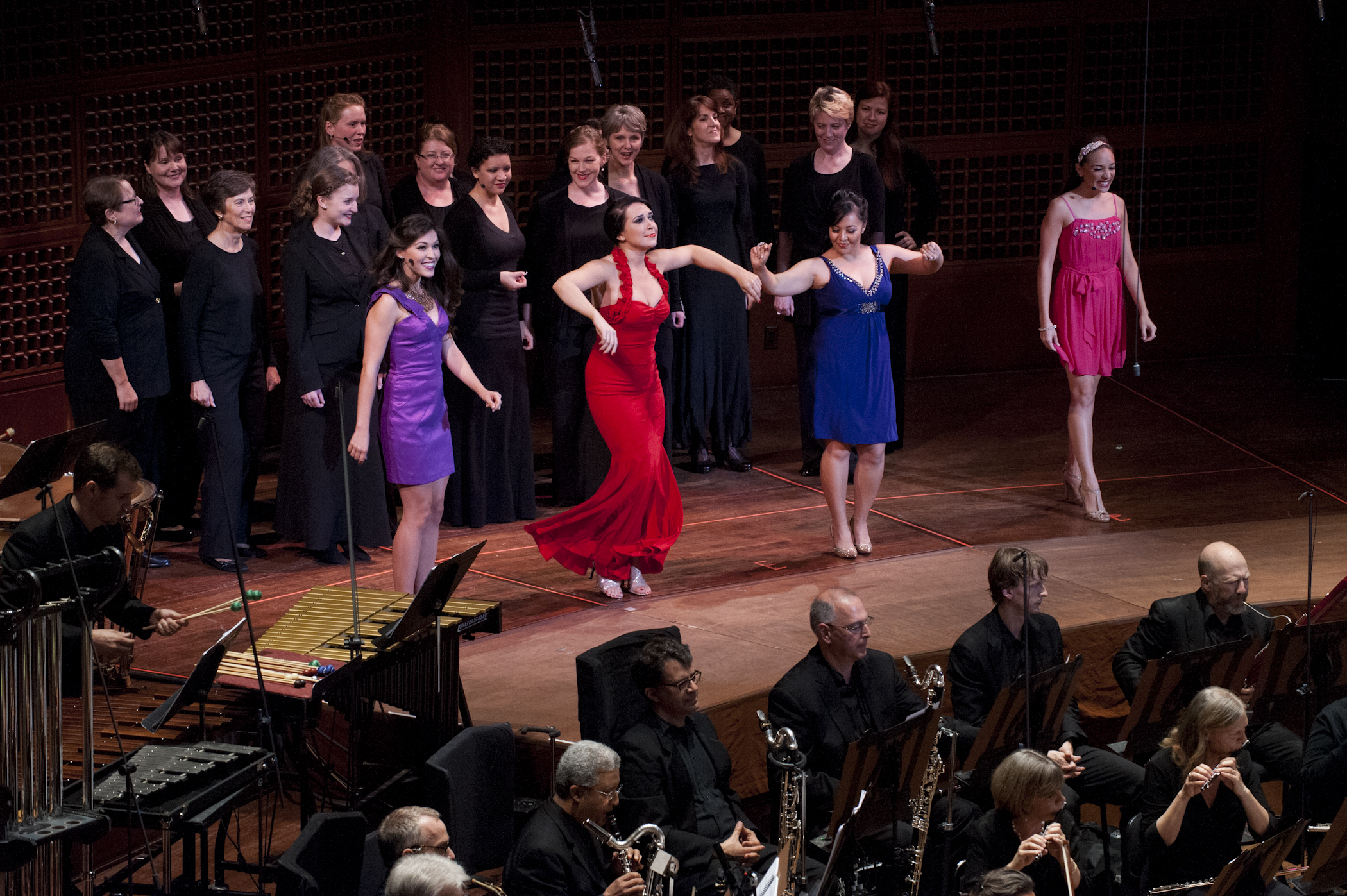 "West Side Story," 2013
"I see SFS Media as another way to pursue an aim that goes back to the orchestra's beginning: to bring music to the people," says Theil. "As technology adapts and changes, we're discovering new ways to use it on music's behalf. Whether streaming a world premiere on Facebook Live or creating Spotify playlists of our recordings for children preparing for our family concerts, digital media can make those connections."
Studies have revealed a symbiotic, long-term relationship between live attendance at orchestra concerts and listening via recordings, radio, and the internet. Listening outside of the home is how fans grow and sustain a love for classical music. Listening is crucial for long-term audience development. It not only creates a legacy of what happened on stage; it is strategic to the long term vitality of orchestras.
Adds SFS President Sakurako Fisher, "One of our core values is making sure that our music is accessible, relevant, and most importantly a part of our daily lives. For many of us now, that means connecting with our music and our musicians through any and all devices our 'family' interacts with. The work that SFS Media does to capture the excitement of what we see on the stage and to tell the stories behind it are vital to maintaining that vibrant and healthy connection to all of our musical family."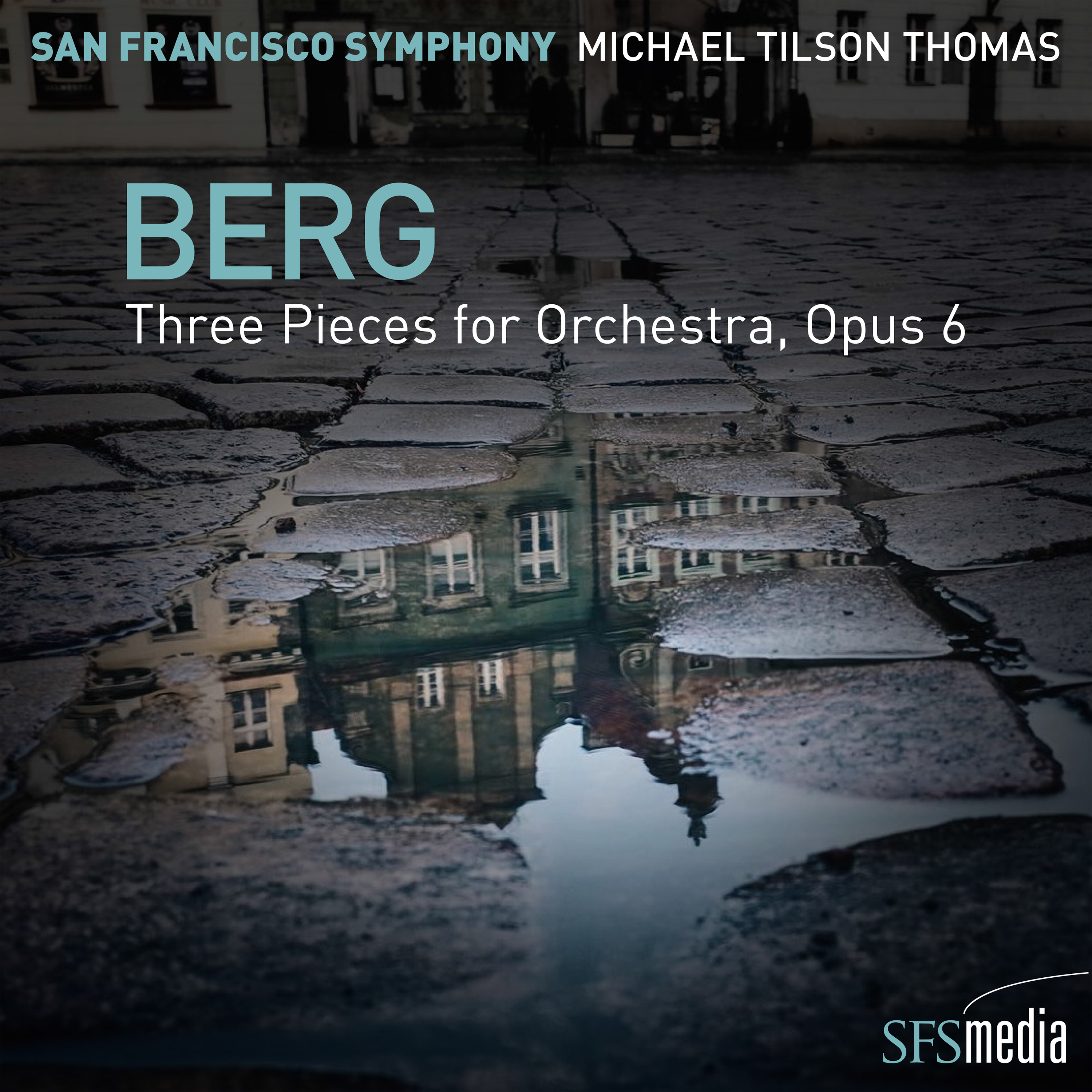 Berg's Three Pieces for Orchestra, 2017.
A LASTING IMPACT
While meant to document MTT and the orchestra's artistic partnership, SFS Media does even more. Principal Horn Robert Ward explains some of the personal impact of recordings. "In my thirty-seven years with the orchestra," he says, "I have gotten countless letters or e-mails that relate how much a particular SFS recording has meant: from students, inspired to follow a career in music by a Mahler CD. From patrons, energized by a John Adams recording to attend a live concert. From auditionees, who grew up with our CDs and now want to be a member of this great orchestra. Recordings are the way we reach out beyond our city to show that we have a meaningful message that transcends the physical confines of Davies Symphony Hall. They are simultaneously a legacy of our great partnership with MTT, and a foundation upon which we continue to build our living, evolving musical tradition." Adds Theil, "Music connects us, it inspires us. And sharing it with others is what this is all about."
ALSO: