Articles &
Interviews
These Symphony-commissioned feature articles offer insights into the music you'll hear in the concert hall. We hope you'll find them provocative and entertaining.
Feb 20, 2013
Bill Bennett: Principal Oboist
What SFS projects are you currently working on? Strauss Oboe Concerto 2/21-22-23
What SFS concerts are you looking forward to next season/have you enjoyed this season? I enjoyed: Ivan the Terrible with Jarowski WE 10/20; Charles Dutoit's recent concerts. I'm looking forward to: Schoenberg Chamber Symphony WE 4/27; Carter Concerto for Orchestra WE 5/25; Honegger Pacific 231 WE 6/9; West Side Story WE 6/30
What keeps you busy outside the SFS? (hobbies, interests, travel, family life): There are many things I'd like to be doing, but I spend most of my free time making oboe reeds. When I retire, I'd like to paint, travel and see if my kids remember anything about me.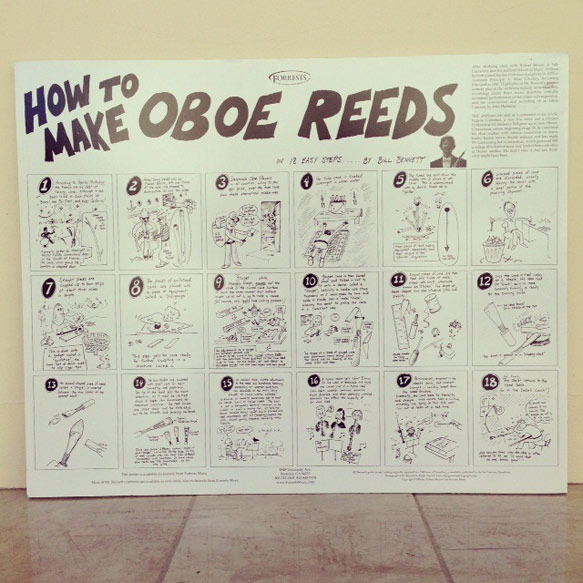 What are your favorite books (or magazines, etc.)? –or-- What have you read recently? I'm ashamed to admit that I don't read half as much as I'd like to (I fall asleep), but I enjoy The New Yorker and Harpers. I've read a lot of economics and statistics books lately: Paul Krugman's End this @#$% Depression Now!, Michael Lewis's trilogy about the United States financial road to ruin, and Nate Silver's The Signal and the Noise.
What are your favorite albums/artists? --or-- What have you been listening to lately? (CDs, live concerts, radio shows…): I feel like I get enough music at work, although I love early jazz, the swing era and the beginning of bebop. I try to run regularly to keep in shape and I love listening to audiobooks. It's a great way to fill in the gaps and digest books that one might not get to in print. This year, I'm tackling Proust's door-stopper trilogy. I also listened to Stephen King's 11/22/63 and George Saunder's December 10.
What are your favorite movies/TV shows? –or-- What have you been watching or what have you seen recently? The one perk of having to make reeds is that I get to watch a lot of TV and I feel I'm justified in paying for a lot of premium cable channels. I recently watched Mark Cousin's "The Story of Film: An Odyssey" and Oliver Stone's Untold History of the U.S. I've also enjoyed the following series: Homeland, Boss, Walking Dead, Girls, and Enlightened. I liked Mad Men for a couple of seasons, but thought it got boring. I also enjoyed The Office with my kids.
What is your guilty pleasure? Horror fiction and horror movies. I also love a good stand-up comedy show.
Favorite thing to do in the Bay Area: Go outside. Eat out. Have a night off.
Favorite thing in your locker/practice room in Davies Symphony Hall, and why: Chocolate bars, for the obvious reason.
This is a chance to share your thoughts about working at the SFS. Maybe the story of how you started here; an anecdote about working here; a description of a memorable experience… anything that comes to mind: I've had a wonderful time with the SFS. One of my childhood idols, Marc Lifschey, was the Principal Oboe when I had the great fortune to win the Associate Principal job in 1979. He was not just a great mentor, but became one of my best friends. He passed away in 2000, but he's still in my thoughts and I try to channel him when I play.