Articles &
Interviews
These Symphony-commissioned feature articles offer insights into the music you'll hear in the concert hall. We hope you'll find them provocative and entertaining.
May 31, 2018
Artist Spotlight: A Conversation with Conductor Susanna Mälkki
The Finnish conductor Susanna Mälkki returns to Davies Symphony Hall June 7-9 with an outstanding program, including Laterna Magica, by fellow Finn Kaija Saariaho, Scriabin's Poem of Ecstasy, and Tchaikovsky's Violin Concerto with violinist Nikolaj Znaider. We spoke to her by phone in Prague, where she was leading the Czech Philharmonic.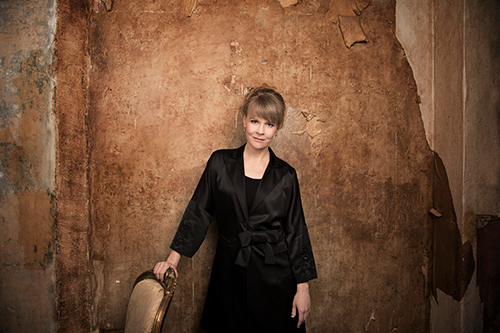 Susanna Mälkki (Photo credit Simon Fowler)
Q: You've conducted in San Francisco before. Can you describe the experience?
A: The first word that comes to mind is sunshine. I think there is a brilliance and brightness in the sound in this orchestra, and the joy of playing. There's a lot of virtuosity of course, and an ability to change according to what the composers need. It's just a sheer joy to conduct them.
Q: This time the sunshine is coming from three very different pieces. Let's start with the Tchaikovsky Violin Concerto, and soloist Nikolaj Znaider. Does the orchestra have to take a back seat in a great concerto like this one?
A: I see it as an interactive role. Of course, the orchestra has to be attentive and considerate when the soloist is playing. But on the other hand, when you have a really big concerto like the Tchaikovsky, when the orchestra is unleashed it's glorious.
Q: How would you describe Scriabin's Poem of Ecstasy?
A: It is seductive for sure. But it's not a trick, because it's really intelligent seduction. (laughs). I think it's an extraordinary piece, and it's actually timeless. But the challenge is of course to make it make sense; it doesn't play itself.
Q: The third composer on the program is a fellow Finn, Kaija Saariaho, and her Laterna Magica, the Magic Lantern.
A: It is special to conduct Finnish music of course, and in particular a composer I know well, because I've worked with her for almost twenty years now. It's wonderful because I've gotten feedback from her that my instincts are good for her music.
She's one of those very rare, great composers whose style is very clear from the start. But also in her music, there is always an element of magic; it's some kind of musical mystery that we are discovering. "Magic Lantern" is a good reference, because it's really about the magic moment you discover something that is out of this world.
Q: Women composers aren't featured very often in classical concerts, and of course there are relatively few women conductors as well...
A: There is a new generation of great young female conductors, and they have more opportunities than would have been the case twenty years ago. The situation isn't changing overnight, because conducting takes time to learn. I'm happy to have been maybe an encouraging example for some of these young people who are now doing it. The same goes for composers. We have some women who are among the best composers of our time, including Kaija. I don't see the situation as frustrating at all. I think we have to be patient, we have to have an awareness, but we have to keep looking at the quality of the music of course. And I think the key to the success of Saariaho for example, she started at the time when she most probably didn't feel welcome at all, but the sheer quality of her music has paved the way.
Q: Conductors lead famously complicated lives. Do you ever have any time to enjoy the cities where you conduct?
A: The short answer is "not enough!" We always have to think about the gig that comes after. That said, I'm happy to be going to San Francisco again. I see just one thing more each time.
Q: If you find yourself this time in San Francisco with a few hours or an afternoon, is there anything you'd really like to do?
A: I love the ocean; I would love to go to the ocean, just walk around, I love the hills. And also the neighborhoods, where people live. It's not only the City; it's the people in the City: The culture, and the old hippie culture, and the different ethnic neighborhoods. What else are the ingredients that stay in the vibe? I can definitely feel it's different from Europe, and I think all of this is fascinating.
—Steve Holt
Steve Holt is a veteran musician and journalist.
Come See Susanna Mälkki when she returns to Davies Symphony Hall June 7-9