Articles &
Interviews
These Symphony-commissioned feature articles offer insights into the music you'll hear in the concert hall. We hope you'll find them provocative and entertaining.
May 1, 2018
Artist Spotlight: A Moment with Composer Andrew Norman
Los Angeles-based composer Andrew Norman has gained prominence in recent seasons through a number of high-profile composer residencies (with Los Angeles Chamber Orchestra, Boston Modern Orchestra Project, and Opera Philadelphia) and notable accolades including Musical America's 2017 Composer of the Year award and the Grawemeyer Award for Music Composition.
This month, guest conductor Juraj Valčuha leads the San Francisco Symphony in Norman's Unstuck.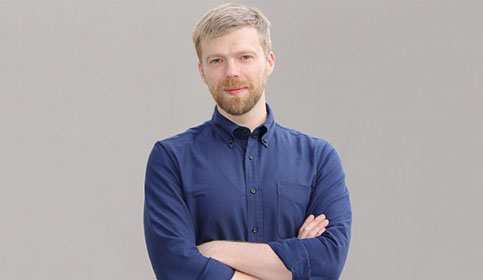 Composer Andrew Norman
When he's creating a big orchestral piece, composer Andrew Norman tries to keep the act of performance at the forefront of his imagination.
"I'm a big believer that orchestral music is a live art form; it's about watching the players move and communicate with one another; it's about seeing the choices being made on the stage, the performative acts of a group of extraordinarily talented human beings, as much as it is about the sounds. I don't write music for a vacuum or for an empty hall."
Speaking of halls, Norman grew up in Modesto, and paid many visits to Davies Symphony Hall.
"I remember coming to see Beethoven's Ninth when I was a little kid, and Mahler's Eighth when I was in high school; that was mind blowing. I was so struck by the breadth and scope of that emotional journey. I think about that experience to this day, so I am beyond thrilled to get to work with the San Francisco Symphony this season."
The Symphony is performing Norman's Unstuck on May 3-5. The title comes from Kurt Vonnegut's anti-war novel Slaughterhouse-Five, where the main character has become "unstuck in time."
"I was having a lot of trouble writing, but at the last possible second before the deadline I saw a copy of Slaughterhouse-Five in a bookstore. I thought about how the main character is constantly jumping back and forth in time, and how that could be an interesting formal conceit for my piece. Unstuck is a little bit like a musical labyrinth or a puzzle; everything is there, just in the wrong place. The piece is filled with lots of really fast jump cuts between wildly different ideas, and I think it's asking what it means for one sound to come after or before another. You could also say Unstuck deals with how thoughts jostle around in a brain, a particularly chaotic and joyfully crazy kind of brain."
The Bay Area will get another chance to experience Norman's music next January, when the San Francisco Symphony premieres his Cello Concerto, a co-commission featuring soloist Johannes Moser.
"I'm trying to do the best I can to capture Johannes, and what I find compelling about his playing, and his personality, and the cello. Music doesn't just flow out of me these days; I have to go looking for it, and sometimes it is very hard to find. I want to make sure the work I put out is the best I can possibly do, and the most honest and true. It's not a process I take lightly."
Last year, Norman won the prestigious Grawemeyer Award for his composition Play. He used the occasion to talk about an issue that troubles him: the lack of racial and gender diversity in classical composing.
"We need to have more people writing symphonic music about now, more people using this medium to express things about our own time and place, about our own differing forms of identity. When we program concert after concert of composers who are male, and white, and dead, we are sending out a very strong message about what and whom we value. We need to be actively asking why we're doing that, and we need to find ways to open up our programming practices to give space and voice and a platform to those who don't currently have it."
—Steve Holt
Steve Holt is a veteran musician and journalist.