INNOVATION. IMAGINATION. INSPIRATION.
In the 2022–23 Season, Music Director Esa-Pekka Salonen, eight Collaborative Partners, and the SF Symphony cultivate vibrant musical experiences shaped by a multitude of creative perspectives.


SUBSCRIBE
COMPOSE YOUR OWN SEASON
CONCERT CALENDAR
Starting at just $25*, buy single tickets to a spectrum of thrilling concerts, including Star Wars, Jurassic Park, Black Panther, and The Godfather performed LIVE with orchestra; solo appearances by celebrated guest stars like Yuja Wang and Hilary Hahn; holiday programs from the beloved Deck the Hall concert to the wicked sass and laughs of Holiday Gaiety; and much more!
Choose 3 Concerts,
Save 25%
Want to make the most of your season? Enjoy all the savings and benefits of being an SF Symphony subscriber by composing your own season. Simply purchase three or more concerts and save up to 25% off full-priced single tickets!*
COMPOSE YOUR OWN SEASON
GREAT PERFORMERS SERIES
The San Francisco Symphony welcomes renowned musicians from across the globe to the Davies Symphony Hall stage in a series that presents top-tier ensembles and artists in recital.
LEARN MORE
SUBSCRIBE TODAY!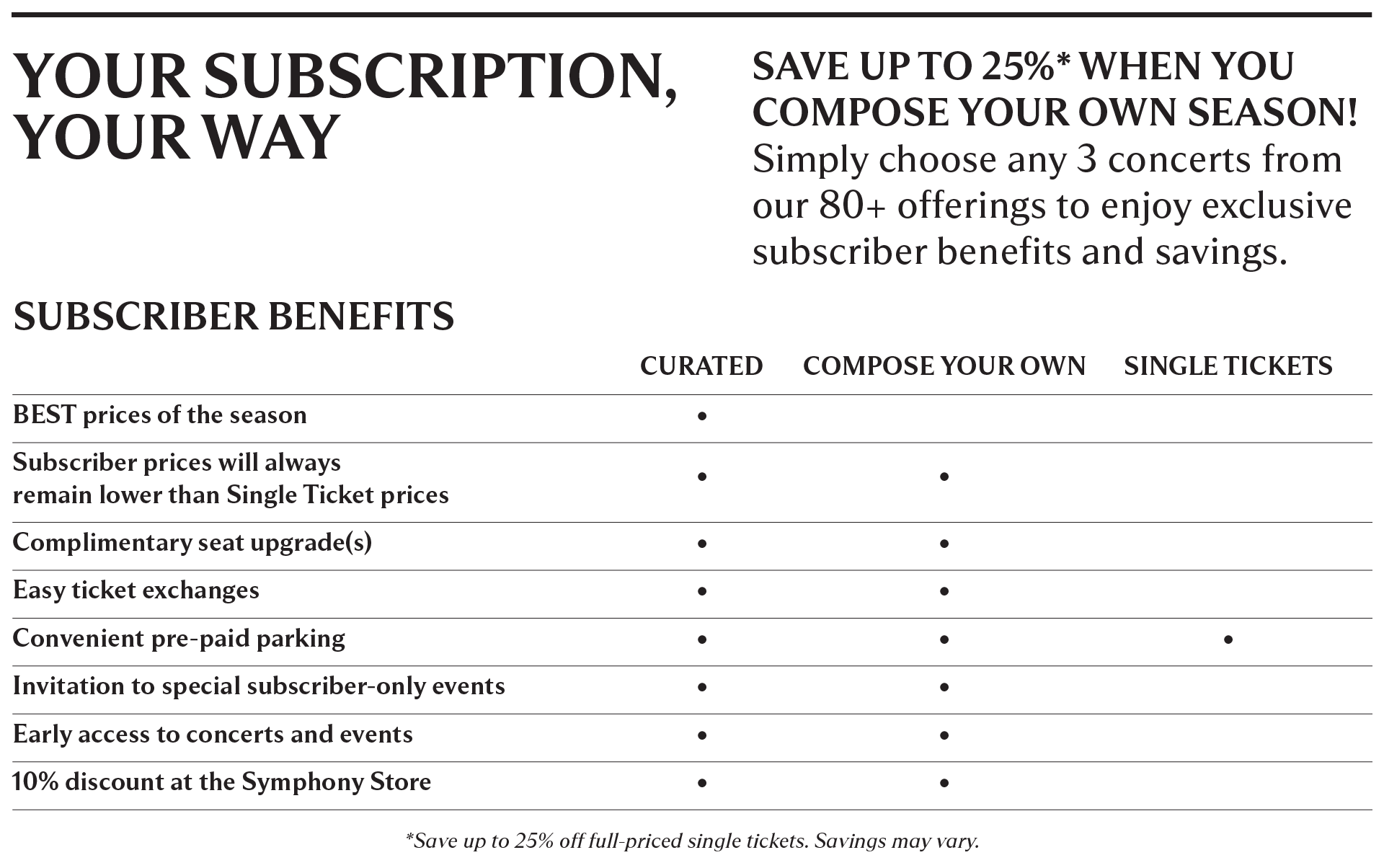 Please make note of the following pre-paid parking voucher information for your convenience:

Performing Arts Garage:

Hayes Valley continues to experience considerable growth. To ensure that you have a worry-free concert experience, we encourage you to purchase pre-paid parking at the Performing Arts Garage (PAG) located at 360 Grove Street between Franklin Street and Gough Street. Parking vouchers guarantee you a parking space in the garage when you attend performances in your concert series, though specific spaces will be available on a first-come, first-served basis on the day or night of each concert. Parking vouchers cost $25 per concert and must be presented upon entering the garage.

Entering/Exiting Garage:

Evening patrons will be able to enter the garage by Grove or Gough Street and exit through Grove, Gough or Fulton Street.
Matinee patrons should enter on Grove Street and may use Gough or Grove Street to exit.


To Enter:

Pre-paid parking vouchers are exchanged at time of entry for an exit ticket from an automated dispenser.
Pre-paid parking vouchers must be presented upon entering the garage and cannot be accepted in payment of an hourly ticket when you exit.
If you lose your parking voucher, you may call Patron Services at 415-864-6000 for a replacement voucher which must be picked up from the Box Office prior to entering the garage to avoid charges.

To Exit:

Before returning to your car, please present the parking slip and your SF Symphony issued parking voucher to the attendant for validation.
On concert days, there will be a table set up across from the elevators and pay stations that handles the validations.


Parking Times:

You may park three hours before and two hours after the scheduled event. If you exceed these hours, an hourly fee will be collected in addition to the pre-paid voucher.
Please check the closing time of the garage posted at each entrance and in each elevator.



Pre-Paid Parking Voucher Exchanges:

Pre-paid parking vouchers are valid only for the date indicated on the voucher. Due to our agreement with the PAG, no refunds can be granted for parking vouchers. Depending on availability, we will be able to exchange your parking voucher when you exchange your performance ticket. Also dependent on availability, parking will be available for purchase on an individual basis.

Guaranteed Parking:

Even if the garage displays a "Full" sign, you should still enter the garage as you are guaranteed a space for the date indicated on your parking voucher. There are no specific spaces reserved for Symphony patrons, so your parking location is at your discretion.

If you have any questions, please call Patron Services at 415.864.6000.
For your convenience, we offer ticket and parking voucher exchanges for most Davies Symphony Hall concerts.

Ticket exchanges are free in person and by mail for subscribers. Single ticket buyers will be charged a $20 exchange fee.

Exchange by Mail:
Send us your tickets and parking voucher along with the ticket exchange form mailed to you with your welcome packet and include two alternate dates for the performance you wish to attend. Please include your daytime phone number. Include your credit card number if exchanging into a higher-priced performance. Please allow ten days for your ticket exchange to reach us.

Mail To:
Patron Services, Davies Symphony Hall
201 Van Ness Ave. San Francisco, CA 94102

Exchange by Phone:
We offer exclusive phone exchange as a convenience for patrons (usage fees apply). Please call the Box Office at 415.864.6000.

Important Reminders:

Please note that all exchanges must be received by Patron Services 24 hours in advance of the performance date on the tickets you are exchanging.
If you exchange your concert tickets, you can also exchange your pre-paid parking vouchers (subject to availability).
Exchange requests into a higher-priced performance or section will be charged the difference. The difference of exchange requests into a lower-priced performance or section will be considered a donation.
There are no exchanges into special events or concerts presented by other organizations.
For the best seats, exchange early before tickets go on sale to the general public on July 16, 2022.


If you have any questions, please call Patron Services at 415.864.6000.
In appreciation of your valued patronage we are pleased to offer you a seat upgrade to any higher-priced seating section (based on availability).

To take advantage of this special offer, please complete the coupon included in your welcome packet and present it to the Box Office within two hours of the concert for which you would like an upgrade.

All seats subject to availability. This offer is valid only for full-priced San Francisco Symphony and Great Performers Series subscription concerts.

If you have any questions, or have lost your coupon, please call the Box Office at 415.864.6000.